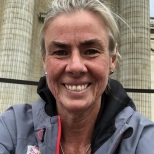 House Leadership
Head of Denys: Pip Yates
House Identity
Our House Motto was chosen by the pupils. Be resilient, show integrity and aim high
Warminster is a unique and close-knit community; which Denys is very much part of. The pupils are encouraged to be the very best they can be and to make the most of their opportunities. We encourage them to take a step outside of their comfort zone and take a step towards their goals and dreams. They need to realise that it is sometime alright to fail, it is what they do next that is important. We have a strong Tutor team to guide and support the pupils and they are there to pick them up when they fall and to celebrate when they achieve.
Pupil Leadership
Denys would not be Denys without the leadership of our excellent House Captain, Deputy House Captain and House Prefects. They are integral to the running of the House and we value their input.
History of Denys
Saint Denis born in the early third century in Italy. He was sent to France by Pope Fabian to convert the French to Christianity. In a short space of time Denis had many important followers and was appointed Bishop. Our House crest is a Mitre: This is the hat that a Bishop would wear. At the end of the 3rd Century, persecution against the Christians became really important. Denis was caught and sentenced to Death. The execution by beheading took place on what we now call Montmartre-The mount of Martyrs. If you were a normal Human being and that you end up beheaded (lets hope not!) Chances are your story would end there. Well, for Denis, things did not follow the norm. According to legend, after his beheading, Denis picked up his severed head and walked north for 6 km, before finally collapsing in a place of his choosing where he decided to bury his head. Although the way his body reached the place is unsure, saint Denis was buried in a place located to the North of Paris, where now lies the city of Saint Denis. In Catholicism, praying to some Saints is believed to help fight some diseases. Praying to Saint Denis is believed to cure Headaches. Saint Denis is celebrated on the 9th October.