WARMINSTER SUPPORTS WILL. WILL YOU?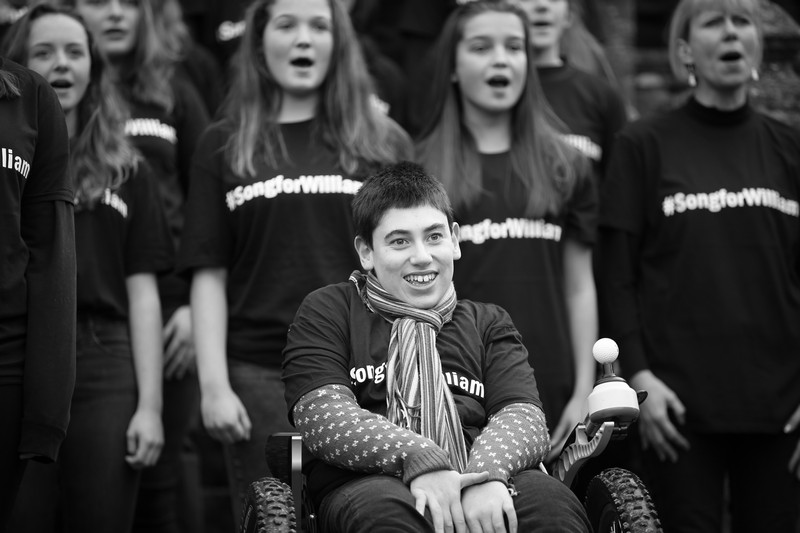 William is a very special 15 year old with a wicked sense of humour. He suffers from cerebral palsy and epilepsy and requires 24-hour care. William has severe problems with his hips, pelvis and back and has a constant battle with pain. He has had over fifteen major operations and will require regular surgery throughout his life. William's seizures can come at any time although the majority come during sleep, which means he needs constant supervision throughout the day and night.
The Edkins family have launched their second Crowdfunding page to raise the last £20,000 that they need to make William's life more comfortable. Having heard about the fund-raising campaign, many staff and pupils at Warminster School were keen to help, a mark of the affection and respect they all have for Jon our School photographer. 'Song For William' involves the Warminster community and highlights the power of a community coming together particularly at Christmastime, the season of giving.
Caroline Robinson, Director of Music at Warminster School said, "The first time I met William was when he came to hear our Orchestra Pre-Tour Concert. I realised there and then just how much he loved music. I appreciate the time that Jon spends photographing our various events and the children are terribly fond of him. This seemed the perfect way to return the favour and show Jon just how much he means to us here at Warminster. Having our resident music technology wizard, Gareth Williams, on board has just been the icing on the cake for this project. I do hope that everyone enjoys the festive film we have put together – it was lots of fun to make."
Jon Edkins also commented, "This is a truly wonderful thing that Warminster School has done for our family. We can't thank all the pupils, staff and parents involved enough, the song is beautiful and the film is magical. We are so moved that the school community has helped us in this unique way."
Song For William was made with the help and generosity of many. With the help of the amazing Warminster Singers we hope to sprinkle lots of festive cheer for a special young man. Please donate £5 (the amount of a secret Santa gift) to William's fund if you enjoy our film.
Merry Christmas from all of us at Warminster.
Please watch #SongforWilliam