Warminster School celebrates the European Day of Languages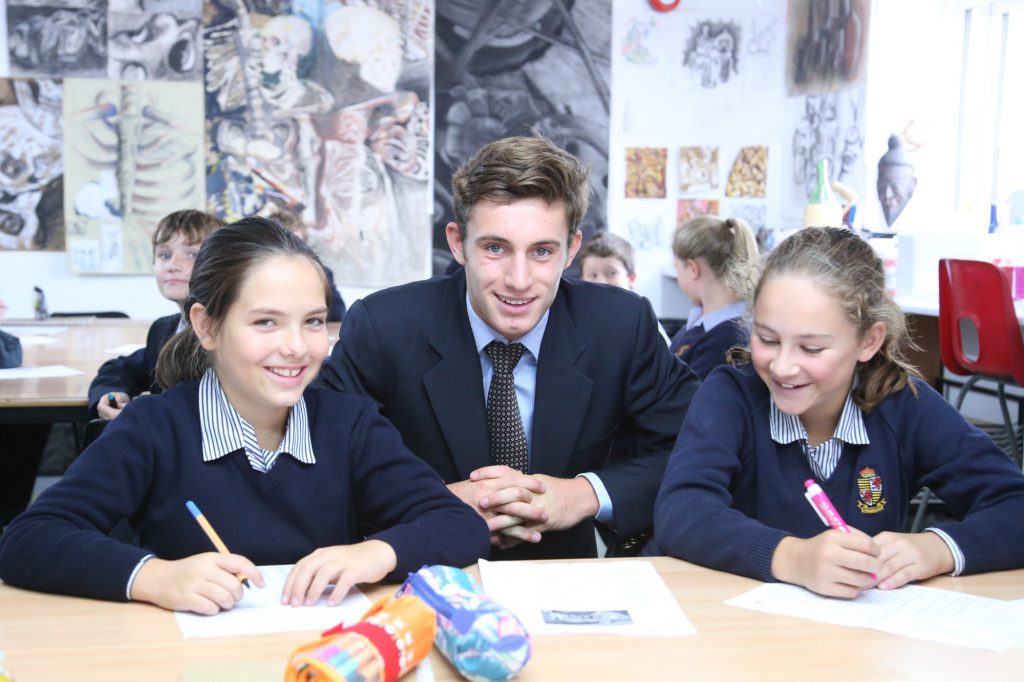 On Friday 26th September, Warminster School embraced the European Day of Languages. Celebrated by millions of people across 45 participating countries, the event is about increasing multilingualism and intercultural understanding. It also aims to raise awareness of the importance of language learning while encouraging lifelong commitment to languages to enhance both educational and professional prospects.
Preparations for the day kicked off with an unusual assembly in the Senior School on Wednesday. Revd Prescott greeted the congregation en français before prayers were read by students in a variety of languages. Numerous members of staff, from across all departments, then took to their feet to show off their remarkable linguistic talents.
Over in the Prep School, the trend continued on Friday morning as Revd Prescott conducted his Harvest Assembly once again en français and the children greeted him and Mr Morgan-Nash in many European languages. Enrique's (Year 6) introduction of the Pre-Prep Choir in Spanish was fantastic, as was Year 2's French prayer.
Throughout the day on Friday, on both sides of the School, lessons were a little different as teachers taught in languages other than English. In Nursery, Madame Mortimer assisted with some beautiful French action-singing while in Reception, the pupils enjoyed some tasty French snacks and learnt how to say thank you for them. In Year 1, Spanish activities were led by Santiago and his assistant Miss Smith. Year 2 read the story Handa's Surprise in French and tasted the exotic fruits being described in the story. This experience inspired the students to express their likes and dislikes in the target language. Year 3 were lucky enough to have a cookery lesson in French with Madame Mortimer while Year 4 learnt a Welsh rugby song with Ms Williams. Year 5 performed a brilliant rendition of the poem Le Petit Cochon and Year 6 even did some Maths using foreign languages!
On the Senior side of our Campus, students were immersed in a whole host of languages. Drama lessons with Mrs Mannion-Leakey were extremely multilingual with utterances in French, Italian, Chinese, Japanese, Spanish, Russian and German. They even played a Spanish warm up game! Year 7 learnt in French about claims to the throne during a History period with Mr Underwood, and those timetabled for Physics with Mr Mercer and Mrs Wilson had the opportunity to 'experiment' with a variety of languages! As well as Italian English lessons with Mrs Parrack, Spanish Geography lessons with Mr Crinion and French English lessons with Ms George, students learnt about the practical side of French during a Design Technology lesson with Mr Rossiter. Mrs Wood's English lesson about Roald Dahl's Charlie and the Chocolate Factory had a distinctly French flavour and Ms Davies' Chemistry lessons in Welsh were particularly well received. Miss Gough continued the Welsh theme (much to my delight) in her Games lessons. Year 10 students were amazed by the effectiveness of Mr Ahmad's Maths lesson which was mostly taught in his mother tongue!
Throughout the day, the Languages department were on hand to provide support while seeking to take all opportunities to link inter-subject activity in this whole school event. Mr Sustek organised a multi-discipline linguistic challenge which saw Year 9 students undertake a Challenge Anneka-style academic event across numerous subject boundaries, all with the aim of winning losin (Welsh for sweets)! Miss Mugridge and her AS students helped Ms Clayton and Mr Kemble deliver their Year 7 Art lessons in Spanish, the success of which was captured by the comments of Clara (Year 7) that "Art in Spanish was so much fun!" Miss Boutliliss's classes enjoyed some Moroccan German lessons while Ms Rodriguez and Mrs Barns-Graham's students had the opportunity to live the Eurovision Dream. I personally relished the opportunity to teach French through Welsh!
As well as linguistic delights, there were also European Culinary delights on offer on Friday. I would like to take this opportunity to thank the many staff and students who brought along European-themed cakes to be sold in the dining hall at morning break to raise money for Macmillan Cancer Support. The event was hugely successful and I am sure we have raised a good sum of money for this very worthy cause. ​
Following the success of the day, our students now hopefully feel inspired to learn more languages and have increased awareness of the cultural and linguistic diversity of our neighbours. For those of you who contributed to the day, you may be interested to know the following benefits of exposure to foreign languages (according to The Daily Telegraph):
languages make you smarter
languages increase your multitasking skills
languages reduce your chances of developing Alzheimers
languages improve your memory
languages improve your decision making skills improves
languages improve your English
Mrs Nicola Rogers
Head of Modern Foreign Languages