VIVE LA FRANCE!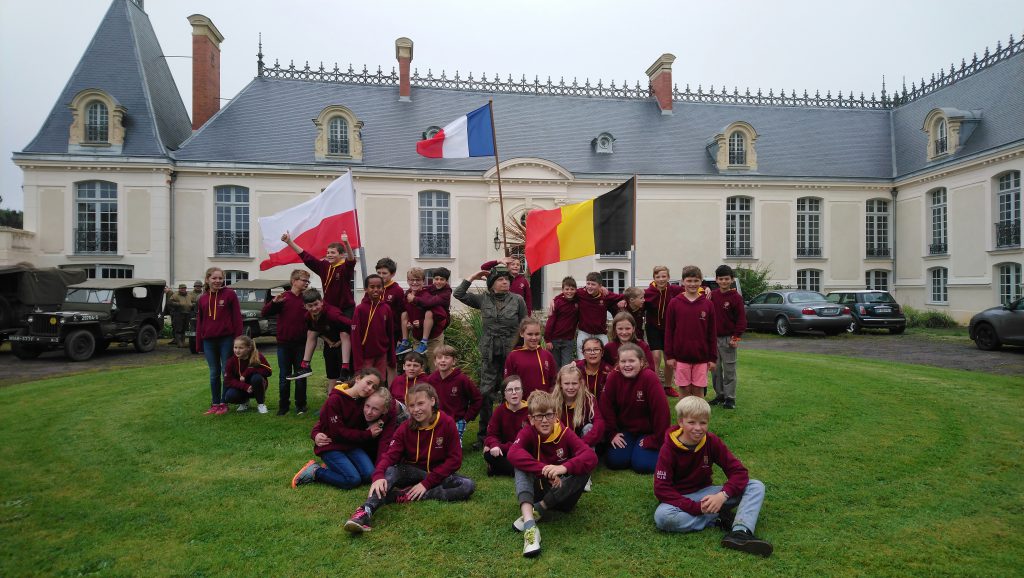 Rested from their half-term, Year 6 pupils embarked for a week in Le Clos de l'Ancien Pressoir, a château in Commes, Normandie. They practised their French, ate lovely (and, to them, sometimes strange) food, learnt a lot about history and enjoyed some sightseeing.
After a very early start on Monday, the pupils enjoyed "steak frites" on the ferry. They were all excited, perfectly behaved and keen to get started with their French.
After a lovely welcome from our guides, Bob and Yvette, at the centre, the pupils settled into their dorms, knowing that there would be a competition for both the quietest and tidiest dorms.
Table manners were very important and we all ate meals together, the French way, starting as one after having said "bon appétit", trying new food, and saying lots of "s'il vous plait" and"merci". At every "petit déjeuner", proper croissants and pains au chocolat were a highlight!
During the week, the pupils had French lessons to practise vocabulary that they then had to use and apply in real situations. For example, places and directions for a town quiz, fruits and quantity to buy fruits in a market to make fruit salad, role plays to help ordering in restaurants for their lunches in a crêperie and likes and dislike for a cheese tasting!
They visited lots of interesting places, learnt a lot and got a sense of French life. In Bayeux, there was a tour of a French food market, a visit to the cathedral and the old town, lunch in a crêperie and the visit to the Bayeux Tapestry, assisted by an audio guide. The pupils were very interested to see face-to-face what they had studied at school.
Our guide made us relive history during our visits to the D-Day landings beaches at Arromanches and Omaha. The pupils learnt all about the floating harbour and the reality of the landings and were fascinated and moved when watching the original film footage at the American Memorial and Cemetery.
This year, one of the highlights of the trip was being in Normandy during the D-Day commemoration, as the children enjoyed seeing veterans and people re-enacting the event. Perhaps THE highlight was visiting a local chateau that had been converted into a hospital during the landings; the pupils were invited by the owners and performed a song (and the National Anthem) for them and their guests during their D-Day commemoration party.
On the last day, it was very entertaining to watch them do some shopping in a big supermarket. The rule was to only buy things that could only be found in France!
The pupils and staff did not want to leave.
Mrs Glenny commented:
"It was a pleasure to watch the children embrace the French culture and language, always willing to have a go and try new things. They were great ambassadors for the school and behaved impeccably wherever we went. The children made fantastic memories and I am sure this amazing experience and its transformative effects will stay with them and inspire future visits."
Ella said: "I loved everything: using my French, seeing new places and especially trying new food!"
Epi said: "My favourite thing was eating snails. Bon appêtit!"
Parents, I hope you have received your "carte postale"!
Anna Mortimer, Prep School French teacher