THE LION KING JR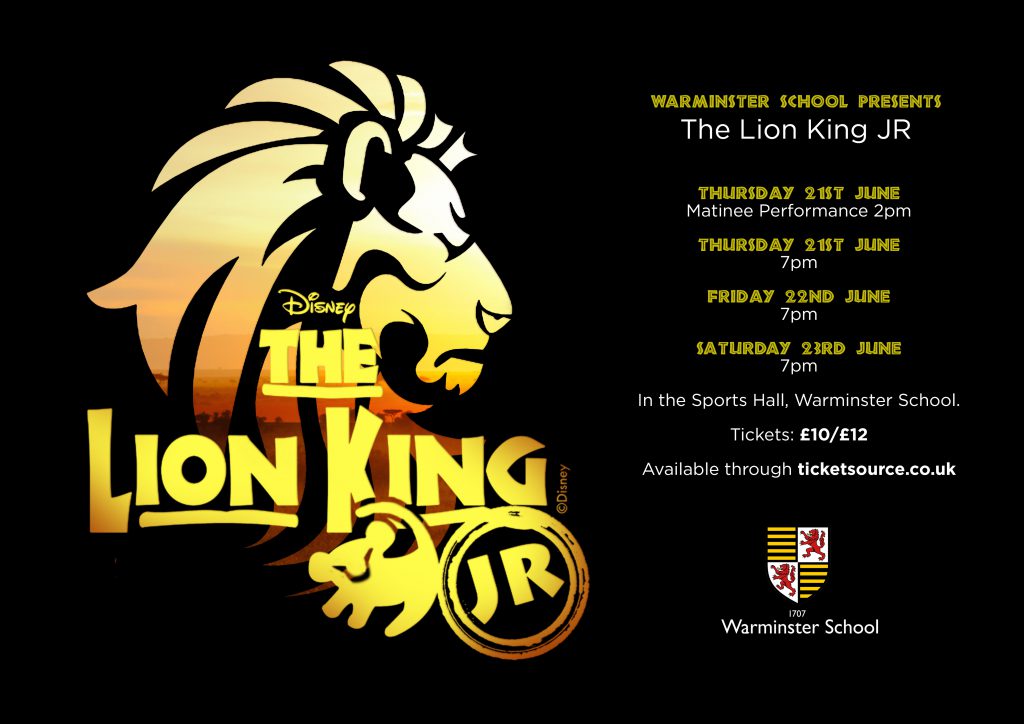 This year's Lower School production brings the African Savannah to life, with Simba, Rafiki and an unforgettable cast of characters as they journey from Pride Rock to the shadowlands, and back again, in this inspiring, coming-of-age tale.
Disney's The Lion King Jr. musical features all the hit songs from the Disney film such as "Hakuna Matata", "I Just Can't Wait to Be King" and "Can You Feel the Love Tonight". These songs tells the story of the young lion prince, Simba, played by Alex Robinson, who is playful and shirks the responsibilities of royalty pressed upon him by his father, Mufasa, played by Alex Hunter. When his father is killed by his evil uncle, Scar, played by Tilly Street, he runs away from the Pride Lands in the hope of forgetting his past. Adult Simba, played by Max Curnock, ends up befriending a warthog and meerkat known as Timon and Pumbaa, and played by Ben Wagstaff and Joe McQuilton, who help him to move on. When the animals of the Pride Lands beg Simba to return, he is forced to decide whether he will fulfil his destiny.
Emily Harris, directing, says, "We have such a lot of talent in the lower school, and so many who can sing well, that it was an opportunity not to be missed in putting this show on. We have an amazing cast of 70 pupils involved, and a super back stage team. Friday activities will be a combination of rehearsal and creative costume and prop making. It is a very exciting stage for us, as my random sketches come to life with set designer, Allan Veale once again. We are all certainly going to be pushing the boundaries with this show, working with the largest cast I have known in fifteen years teaching! I am thoroughly enjoying getting to grips with the Swahili and Zulu language, much to the humour of Miss Hunter, who was Young Nala in the West End".
Karina Hunter said, "I cannot wait to work with such a large and talented cast on something that is so close to my heart. It is very important that the cast develop their physicality as individuals and particularly as an ensemble. These animals work together and are a united community, this requires extensive work in rehearsal. However, this can be testing as the physicality is quite unique and complex, but even in these early stages of rehearsal, the cast are focused and determined to make this show spectacular."
We have our masks and puppets being made in Australia and are looking forward to receiving our first shipment after Easter! Shannon Cooke from The Puppet Workshop has previously created a wonderful set of masks for a musical production of the show, and the quality of her craftsmanship is clear. Emily says, "They will add the finishing touches to this show, and give the pupils a wonderful experience".
Tickets available via ticketsource.co.uk from 21-23 June in the Sports Hall.