THE COMPETITION HOTS UP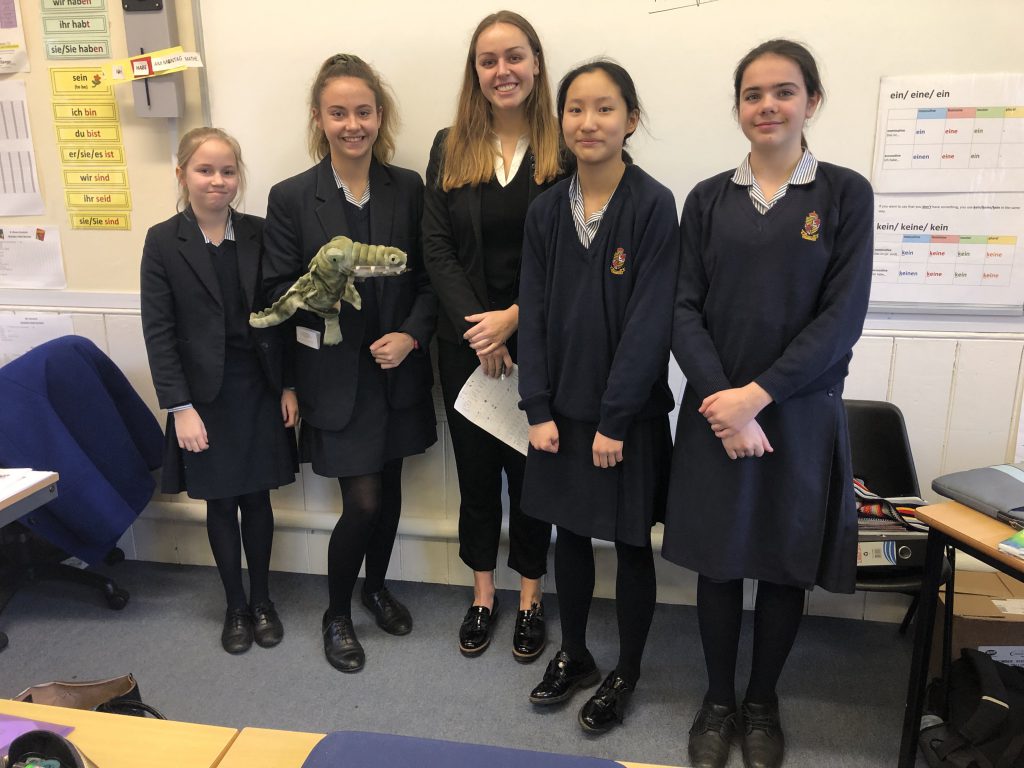 The tradition of hosting an annual poetry competition started a few years ago and this event is always eagerly anticipated by both pupils and staff.
Reciting a poem in a foreign language doesn't only help with pronunciation – it also makes learning new words fun. Pupils in Y6, Y7 and Y8 were given several poems to choose from before Christmas to give them enough time to perfect their poem over the holidays. Y7 and Y8 pupils learnt two poems as they are all learning French and either Spanish or German! The topics of the poem ranged from describing a snail and an elephant, to Hansel who was taking a walk with a dumpling, a hungry crocodile and several more.
We have been told by reliable sources (i.e. parents) that the process has taken over family life at times and that often, not only the participants, but parents and siblings can often recite the chosen poems too – perhaps an idea for a new format for our competition next year?
The winners and runners-up of the Languages Poetry Competition 2019 were:
Year 6/7 French:
Winners: Amélie Mortimer and Eugenie Godfrey-Faussett
2nd: Sully Mills and Eppy Buinitaria
3rd: Tom Owen
Y8 French:
Winner: Tia Smye
2nd Katja Lindblom, Lottie Humphris and Liberty Le Flem
3rd: Liza Novokreshchenova
Y8 German:
Winners: Tia Smye and Sunny Yang
2nd (joint): Katja Lindblom, Ella Grewal
Y8 Spanish:
Winners: Iksha Limbu and Lotti Humphris
2nd: Jake Taylor
3rd: Joseph McQuilton and David van Wagenen
Whilst our pupils were busy standing on the stage this half-term, 28th January saw a language event where they were on the more relaxed audience side of the stage too. German learners in Year 7, 8 and 9 were treated to an amazing performance by the Onatti Theatre Company, which we regularly welcome to our school. The play "So eine Nervensäge" included lots of audience participation and the chosen pupils did a great job on stage.
We also welcomed our fourth World in Wiltshire group (pupils and teachers from Cognac in France) to our school. As always, they integrated exceptionally well with everything our school has to offer… and after they'd been told it never snows in Wiltshire, they even experienced a snow day in the middle of their stay!
We are looking forward to many more language events in the next half term.
Barbara Mitterrutzner​, German Teacher