STAYING FIT AND MOTIVATED DURING LOCKDOWN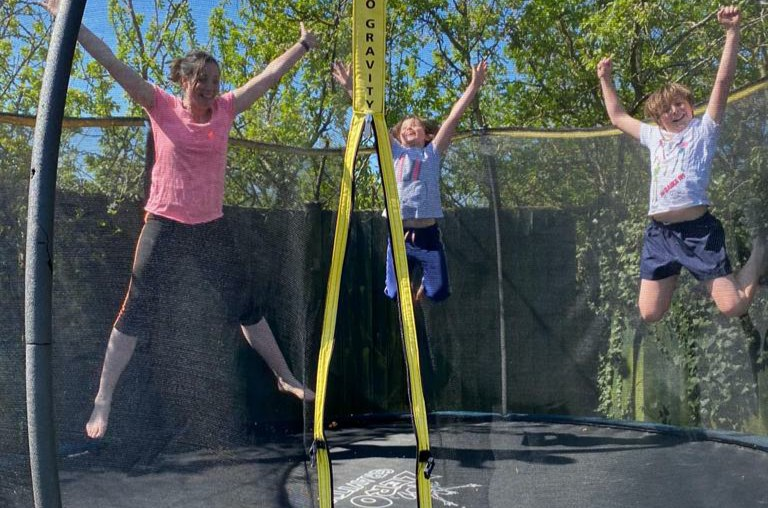 Our school Physio, Mel Gairdner, shares her motivational tips and advice to help both body and mind agile over the coming weeks.
In the belly of week 4 of lockdown, with Easter chocolate still melting on the tips of our tongues, we are inundated by ideas of how to stay well, fit and motivated. From Mifffit to Joe Wicks to Groove workouts to Art Ninja to mindfulness courses – there are many tools available to keep occupied and active. So, what to choose from the wealth of options and why?
One of the biggest challenges that faces us in lockdown is maintaining a positive mental health. Isolation and its results during a time of huge anxiety can definitely test our ability to stay upbeat and healthy in mood. We all cope with adversity differently. For some it will be a case of rigidly sticking to a timetable and routine, for others it will represent an opportunity to learn a new skill and "make the most of this time". Some need human connection whilst others simply to lie still, breathe and just be. No approach is wrong or right – it's what works for you. The only caveat I would add to that is movement. We need to move regularly and well to stay happy.
We all know that there are many reasons why physical activity is good for your body. Having a healthy heart and improving the condition of your muscles, bones and joints are just a few. We also know how much better we feel when we get out and exercise. Physical activity is hugely positive for our mental health and well-being. The evidence backs this up, showing a definite link between reduced movement and exercise with adverse mental health and on the flip side, the hugely positive effects of exercise on our mental health.
When we exercise, hormones and neurotransmitters (endorphins being one) are released and these have a positive impact on our mood, memory, energy levels, and sense of well-being – something we could all do with in bucket loads right now.
So how much do we need to do to get these effects?
We know that cardiovascular and aerobic exercise are great for creating the intensity required for endorphin release but after a period of any physical activity your muscles feel tired, which in turn leads to a feeling of relaxation. You may also feel a sense of accomplishment, which boosts your self-confidence and improves your sense of well-being. Thanks to the activity, the pent-up tension and stress in your muscles and your mind are reduced.
At a very basic level, physical activity means any movement of your body that uses your muscles and expends energy.
One of the great things about physical activity is that there are endless possibilities and there will be an activity to suit almost everyone. From keeping up your normal established fitness routine to adding an activity to your day to get the heart and breathing rate going a bit more. Recommended guidance is 150 mins of moderate physical activity per week or 75 minutes of vigorous exercise; in short, a useful guide is to undertake 30 minutes a day each week (with a couple of days rest!) of something that gets you breathing faster and your heart rate up.
If exercise is already a regular part of your week (2-3 times is ideal), think about adding in a new activity on the other days. Extend these activities gradually as you get fitter (longer, faster and more intense sessions) resulting in a pain free body that feels good! If exercise is not normally your thing (and don't worry, you won't be on your own!) start by finding something you enjoy – walking the dog, dancing in the kitchen, following an exercise video, skipping, even cleaning the windows. Anything that gets your whole body moving or working (arms, legs and middle), your breathing rate up and your heart beating a little faster, will be doing the job. Aim for something 2-3 times per week to start with. Make it fun and make it enjoyable. Set yourself a target- perhaps 10 skips, 3 sparkling windows and build it up to last at least 30 minutes. Once you've mastered that, raise the bar and aim to do this 5 times per week.
When it comes to exercise it's crucial that you pick something you enjoy – the best type of exercise to improve your mood is one you are motivated to stick to for the long-term. So, vary it if that suits you or keep to a routine but make sure it is something you can stick to. Don't forget to have a couple of days off as recovery is as important as the hard graft!
From roller skating to dog walking to HIIT, choose something active that makes you feel good afterwards and most importantly over these coming weeks, be kind to yourself. Let me know how you get on and do feel free to get in touch for any advice or support. Wishing you a safe and healthy time.
Mel Gairdner, School Physio, Specialist Physiotherapist for Children and Adolescents, Level 3 personal trainer [email protected]
*As with any physical activity, care with pre-existing medical conditions or injury is important and it's always best to consult a health professional if you're not sure