SPOTLIGHT – TIM WATTS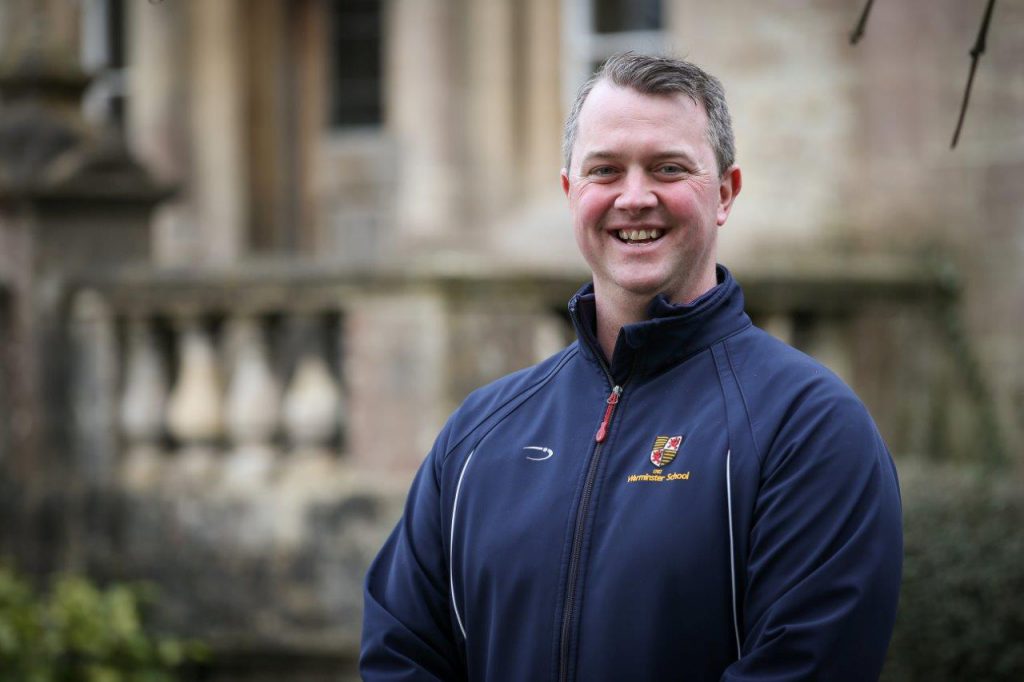 The Spotlight shines on our affable Director of Sport, Tim Watts.
Tim was born in Essex but moved to Hertfordshire and then Kent was his home for 30 years. He has been a teacher for 14 years, having started teaching at an all-boys grammar school in Kent. After 12 years at The Skinners' School in Tunbridge Wells, as a PE teacher, Head of Hockey & Cricket and coaching all 1st teams, including Head Coach of Skinners 1st XV Rugby, Warminster came calling. He loves spending time with his wife Michelle and three children Samuel, Oscar and Poppy. Tim enjoys all sports, travelling, skiing and is partial to a bit of cooking and karaoke – but not at the same time.
How long have you worked at Warminster?
Since April 2018.
What's the best thing about your role?
Being actively involved in teaching and coaching sport to the pupils, and of course being in charge of all the sport. Working with such a wide variety of people is wonderful.
Describe a typical day?
My day typically begins with getting the children out of bed and making sure I've got everything and we are out of the door by 7:45am. Every day is different, from organising the superb match teas for all our pupils, parents and guests to teaching Year 4 rugby. Some days I'll be teaching Year 11 GCSE PE and others I'll be finalising fixtures and transport. I love the variety.
What do you think makes Warminster a special place to live and learn?
It has to be the people, staff, pupils and parents. It's the real sense of community that makes it so special.
What would surprise us about you?
Before teaching I worked for a French wine company as a private wine consultant and once dated an Australian soap star.
What other Warminster role would you like to try for a day and why?
I would have to say the Headmaster's role. Being in charge would be the ultimate challenge!
As a child what did you want to be when you grew up?
A farmer. I spent a lot of time at my uncles farm in Northamptonshire as a child, it was amazing.
What did your school reports say about you?
Outstanding in PE & Games, must try harder in everything else especially Maths
Your note/advice to teenage self?
1. Don't be afraid to fail. 2. Always give 100% in everything you do. 3. Take a gap year.
Your mantra/motto or favourite quote?
It's not whether you get knocked down, its whether you get up that counts.
Hidden ambitions still to achieve?
Travel through Canada and drive a super car.
A favourite possession you would save from a fire?
First, photographs of my children and then my phone, it has thousands of photographs on it.
Biggest bugbear?
Bad manners.
Favourite musician/group?
A mix of Red Hot Chilli Peppers, Oasis, Rag n Bone Man and Newton Faulkner.
We hear from pupils that you are a bit of a 'Karaoke King'. Particularly on the Netherlands hockey tour coach. Do you believe music can help with sports performance?
Music can hugely help sports performance. It gets adrenaline pumping and focuses the mind on performance. It also takes away the pressures of performing on the sports field and can help relaxation. Also getting a team or touring party to sing together before a match is no bad thing.
What is your favourite karaoke track?
Tough question, lets go with Superstition by Stevie Wonder.
Guilty pleasure?
Haribo.
MasterChef signature dish?
I could have a number of signature dishes. Fillet of beef, Caesar Salad, Spag Bol or Chicken parmigiana.
Favourite TV programme?
Billions or Big Bang Theory.
Last book you read?
Bradley Wiggins Autobiography.
Last movie watched?
Avengers Infinity War.
Which actor would play you in a movie about your life?
My wife says Vince Vaughan, I would say Chris Hemsworth.
Favourite tipple?
Cider or Rum.
Favorite place/city in the world and why?
It would have to be Melbourne, Australia – the people, the atmosphere, the sport and its diversity.
Twitter or Facebook?
Work – Twitter, personal – Facebook.