SPOTLIGHT – MATT WILLIAMS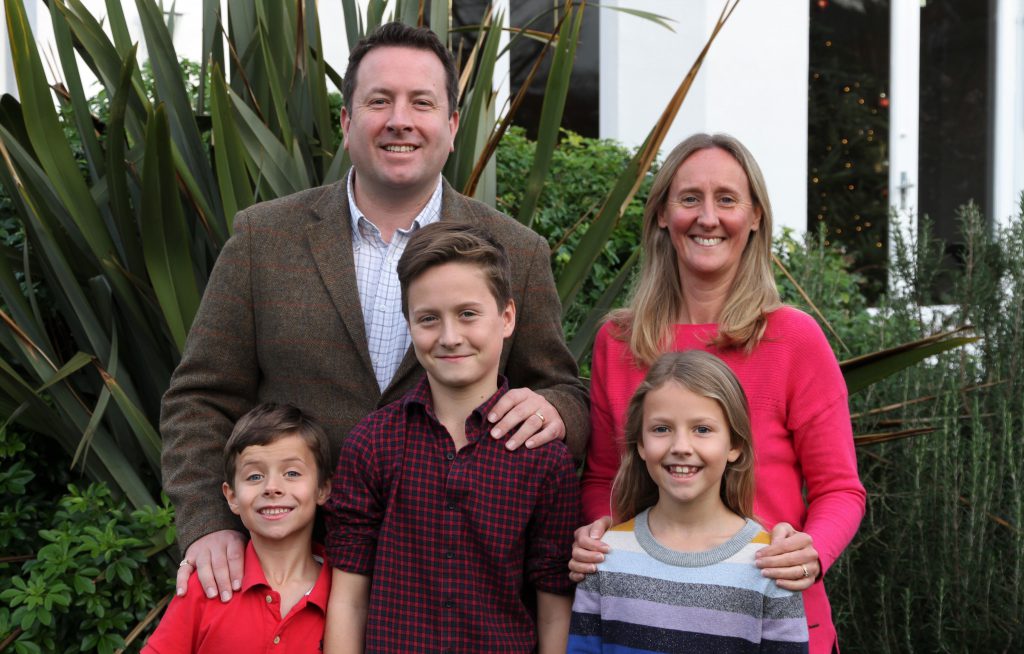 An introductory Spotlight shines on Matt Williams, Headmaster from 1 September 2019. Matt and his family move to Warminster during the summer and we look forward to welcoming them to Warminster School.
Matt joins Warminster from Sidcot School, Somerset, where he has been the Deputy Head since 2014. Having started his teaching career at a school in Berkshire he then spent 14 years at Rugby School as Head of Drama and then Housemaster of a senior boys' boarding house. Born and brought up in Birmingham, he is a loyal supporter of Aston Villa and also loves rugby and cricket. He has three children (Henry 12, Anna 9 and Joseph 7) and the family enjoy surfing and skiing; holidays are spent up mountains or near a beach.
What attracted you to Warminster School?
I was drawn by the strong and tangible sense of community I felt on my first visit and the emphasis on an all-round education, where co-curricular activity is valued and treasured by pupils and staff. The school has a strong sense of tradition, but also is not afraid to innovate and take risks. Finally, it was very apparent that clear and robust values underpin all that Warminster does.
What are you most looking forward to in your first term as Headmaster?
Getting to know the pupils, staff and parents and starting to understand how the School works. I am also looking forward to seeing the whole school gather in church and watching plenty of sport.
What might surprise us about you?
I was once smuggled into France in the back of a Land Rover.
As a child, what did you want to be when you grew up?
I had always thought I would be a journalist and undertook work experience at a local newspaper when I was in Year 11.
What did your school reports say about you?
Bright and able, but needs to put in some hard work.
Your note/advice to teenage self?
The decisions and choices you make now will live with you forever, so think carefully and value kindness and humility.
Your mantra/motto or favourite quote?
"I've failed over and over and over again in my life and that is why I succeed." Michael Jordan
Hidden ambitions still to achieve?
I would love to play an instrument to a reasonable standard. I 'own' a guitar and had lessons as a child, but it just gathers dust at present.
A favourite possession you would save from a fire?
A British and Irish Lions rugby shirt signed by the 'Dream XV'.
Biggest bugbear?
Irrelevant use of the word 'like' in general conversation.
Favourite musician/group?
This changes a lot – currently The Decemberists and Bear's Den.
Guilty pleasure?
'Salvage Hunters' – not to be confused with 'Storage Hunters' which is an infinitely inferior TV programme – as I am quite keen on antiques and restoration.
MasterChef signature dish?
Moroccan Lamb (ask Mr Sully).
Favourite TV programme?
Luther or Line of Duty.
Last book you read?
'A Strange Eventful History' by Michael Holroyd. It is a biography of Henry Irving, Ellen Terry and their remarkable theatrical dynasties.
Last movie watched?
Disney's 'The Hunchback of Notre Dame' with the children. It's an underrated classic!
Which actor would play you in a movie about your life?
Tom Hanks – absolutely no likeness, but he's an Aston Villa fan.
Favourite tipple?
A cold glass of Sauvignon Blanc.
Favorite place/city in the world and why?
New Zealand. Nicola and I travelled around both islands on our honeymoon and I was amazed by the scenery and friendliness of the people.
Twitter or Facebook?
Twitter. I had a Facebook account for two weeks and it terrified me.
Follow Matt on @WilliamsMatt75