SPOTLIGHT – LEANNE LEWIS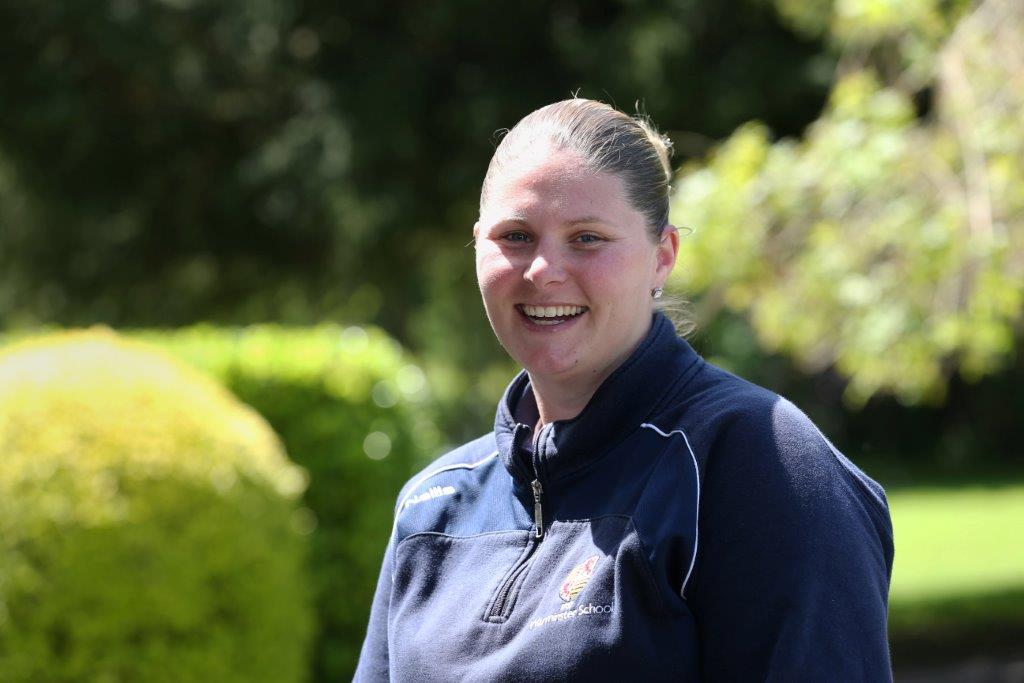 The spotlight shines on our 'Welsh Warminster Smasher', Teacher of PE and Girls Games, Leanne Lewis.
Leanne grew up in the Welsh Valleys. She was inspired to become a teacher at an early age as she loved her time at school and never missed a day. She studied a degree in Sport & PE at UWIC before completing her PGCE. Whilst completing her degree, she was a member of the Welsh Netball Development Squad and trained daily. Leanne has enjoyed a variety of teaching roles in the Bristol area and after relocating to Salisbury due to her partner's job, found herself at Warminster. She is passionate about all things netball and has coached and officiated from a young age. She is currently involved with Team Bath Netball, the Regional Head Selector for the South-West and helps with our own Warminster Smashers netball squad. As a mother of a two-year-old daughter, she finds she is completely occupied when not playing or thinking about netball!
How long have you worked at Warminster?
Since September 2015.
What's the best thing about your role?
Getting to know and developing positive relationships with our pupils. Encouraging them to take a lifelong interest in sport and physical activity.
Describe a typical day?
A typical day does not exist!
The day begins with getting up and waking up my two year old daughter. We then have a hectic hour making sure we are in the car and on the road by 07:30. Each busy day starts with a brief review of emails and then attention immediately turns to our games programme. Lunchtime is invariably spent in the sports hall delivering netball. The day concludes with games and after school practice, before departing at 6pm.
What do you think makes Warminster a special place to live and learn?
Staff. Pupils. Everyone working as a team.
What would surprise us about you?
You might be surprised to learn that I competed at the Horse of the Year Show when I was sixteen. I spent most of my childhood competing on the show jumping circuit and was very lucky to have supportive parents.
I have also coached the Welsh U17 Netball Squad to a Silver medal at the Netball European championships.
You are involved a great deal with Warminster Smashers; can you tell us a bit more about it?
Warminster Smashers have gone from strength to strength over the last two years. We field two squads each week in the Wiltshire Senior Club League. Both squads have had a great season, with the WS 1 squad not losing a match over two seasons; we are currently top of the league with 3 matches remaining. The WS 2 squad are in third place also heading for promotion as they have only lost 3 matches. The squads are made up of pupils, Old Verlucians, staff, parents and friends of the School. It is lovely to see everyone come together with the aim of developing and enjoying netball.
What other Warminster role would you like to try for a day and why?
I would like to be a pupil again to experience school life from their perspective!
As a child what did you want to be when you grew up?
From the age of 12 I wanted to be a teacher.
What did your school reports say about you?
Leanne likes to chat…
Your note/advice to teenage self?
Try not to chat so much…
Be more open-minded.
Your mantra/motto or favourite quote?
"Be who you are and say what you feel because those who mind don't matter and those who matter don't mind"
Hidden ambitions still to achieve?
Nurture my little girl so that she becomes a fantastic young lady.
Most treasured possession?
My photo albums.
Biggest bugbear?
Dishonesty.
Favourite musician/group?
Alicia Keys / Snow Patrol
Guilty pleasure?
Reality TV!
Signature dish if you were on MasterChef?
I am not a very good cook, so would visit Marks & Spencer's for something to pop in the Oven!
Favourite TV programme?
League of Their Own.
Last book you read?
'The Gruffulo' my daughters favourite book!
Last movie watched?
Sing!
Which actor would play you in a movie about your life?
Kate Hudson.
Favourite tipple?
I don't drink alcohol; I gave up when I went to University.
Favorite place/city in the world and why?
Italy – Edd (my partner) and I have experienced some wonderful holidays in this beautiful and cultured country. It is where we want to get married, when Edd eventually asks me!
Twitter or Facebook?
Facebook.