SPOTLIGHT – LAURA GIBSON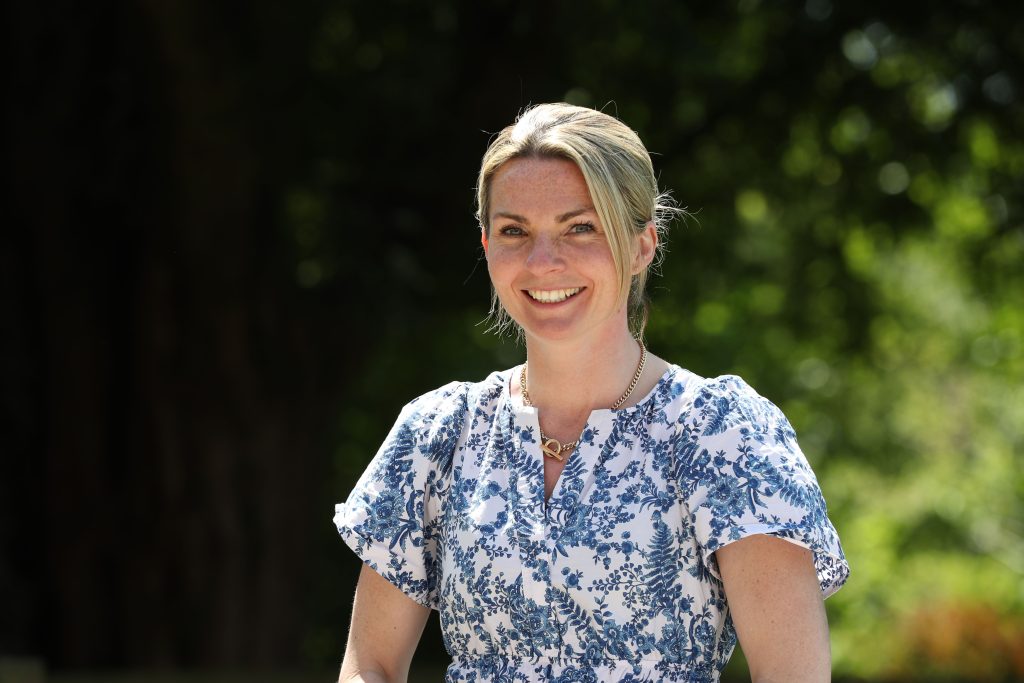 Laura grew up in a small village in Leicestershire and studied Events Management in Nottingham. Since then, she has always worked in the Events Industry, from organising European hockey festivals and a Spanish sports festival, to large scale fundraising events for Cancer Research UK, where she worked for around a decade. Laura and her family ended up living in Frome, where her husband grew up and she completely fell in love with this part of the country. She has always been passionate about education and so when the opportunity came to work at Warminster, (where her husband also went to school), it seemed a perfect fit. Life with 3 young children is always busy for Laura, from beach trips to sports fixtures there is never a dull moment. She loves nothing better than to take her children on as many adventures as possible and share her love of sport and the outdoors with them.
How long have you worked at Warminster? I started working at Warminster in Feb 2022. My husband is an OV so although I've not been here too long, I feel very connected to the school.
Describe a typical Warminster day? There is no typical day! My role is so varied and although I try to meticulously plan my week, I am always surprised by OVs dropping in (which is always wonderful!), requests for photos and information from the School archive and opportunities that come up to help around school.
So, days vary from planning OV and school community events, catching up with OVs and sharing school news, organising the schools' historic archives and working on our 1707 Bursary Programme, no day is ever the same!
What do you think makes Warminster a special place to live and learn? Warminster is all about community, in every sense of the word. The community within the School which you see all around. The Sixth Formers helping year 7's with their hockey training, the staff volunteering to go on extra trips and cover lessons. The Catering Team who works tirelessly but always have a smile, the Estates Team who are always tending to the buildings and ground and often up very high ladders, but always have time to say good morning.
I am always so proud of the work that we do in the wider community too. The funds raised for local charities, the pupils dedicating their time to projects and local initiatives. It is the day in, day out commitment of the staff that make our community what it is.
What other Warminster role would you like to try for a day and why? Head of Outdoor Pursuits sounds great, but hard work. I love to be outside, try new things and take on challenges, so I think I would like to give it a go!
Tell us about Warminster's 50-year celebrations? In September, we are launching our celebrations to commemorate 50 Years of Co-Education here at Warminster School. This was a huge turning point in the school's history, and I am really pleased we can celebrate it with our whole school community and showcase the benefits of a truly co-educational environment.
In 1973, Lord Weymouth's School amalgamated with St Monica's, which stood on the site of Warminster Prep. Thereafter, the School became known as Warminster School. To celebrate, on 23rd September we are welcoming OVs, parents and friends of the school to afternoon tea and hosting a specific St Monica's reunion for those who attended the school. There will be tours and also an exhibition of the School archives.
In the evening we will host a Gala Dinner to celebrate all that Warminster is today. The evening begins with a drinks reception, where you will have the chance to catch up with alumni, fellow parents, staff, and guests. This will be followed by a three-course meal, live music, guest speaker, DJ and dancing.
It is open to our whole school community, so we'd love everyone to be there to celebrate with us!
Any other exciting news in Warminster Development? We have some really exciting things in the pipeline at the moment. I am looking forward to our new Summer BBQ and Social Sixes Cricket Tournament in July. Watching the staff and pupils play against parents and OVS will be brilliant. I think the staff might win, but the pupils are very confident too. The great thing about Sixes Cricket is that it is fast and very exciting. Everyone is very welcome to come along and support!
We are also going to launching our new 'Verlucian Community' later this year, which will enable us to support and connect with pupils, parents, supporters and OVs more than ever – watch this space!
What would surprise us about you? I am a qualified paddle sport instructor. I am also ever so clumsy. If there is a drink around, I'm bound to spill it. I have always loved being outside and sports, and I wanted to be a watersports instructor somewhere where the sea is warm all year round! Or failing that, something to do with netball. I still play every week for my local club and love it!
What did your school reports say about you? Hardworking, perfectionist, needs to work on handwriting.
Your note/advice to teenage self? Worrying doesn't take away tomorrow's troubles, but it does take away today's peace.
Your mantra/motto or favourite quote? Live in the sunshine, swim in the sea and drink the wild air.
Any hidden ambitions still to achieve? I would still love to get better at surfing. My 12-year-old son is considerably better than me, and I am not sure if I am OK with that!
A favourite possession you would save from a fire? I am not very sentimental about things, but I would definitely save our growing selection of pets. We have a working Cocker spaniel, 2 cats and our latest addition – a long haired mini dachshund puppy called Cosmo.
Biggest bugbear? Being late!
Favourite musician/group? I love acoustic covers; they are generally at the top of my playlist. I enjoy hearing a song totally stripped back.
Guilty pleasure? After a busy day, I do enjoy utterly nonsense TV like Love Island! I know it is awful, but it is such a break from the real world!
What is your MasterChef signature dish? Homemade pizza cooked in our Ooni pizza oven. Not quite suitable for MasterChef but a crowd pleaser non the less.
Last book you read? I re-read The Colour of Magic by Terry Pratchett. I read it as a teenager and wanted to relive the magic as my son is currently reading it too.
Favourite tipple? A French Martini if I am out, sangria if I'm on holiday or half a Thatcher's if I am at our very quirky village local.
Favorite place/city in the world and why? I love Barcelona. It's rich history, stunning architecture and vibrant culture makes it a firm favorite for me. I also love the wild Cornish coastline.
Social media account? Why should we follow Development on socials? We have active Twitter and Instagram accounts. I think our Verlucian social accounts are great fun. I am often putting up polls and sharing photos from years gone by. I also take photos of places in the school and see if people can guess where it is. Sounds easy? Follow us and see for yourself!