SPOTLIGHT – JEREMY ROBERTSON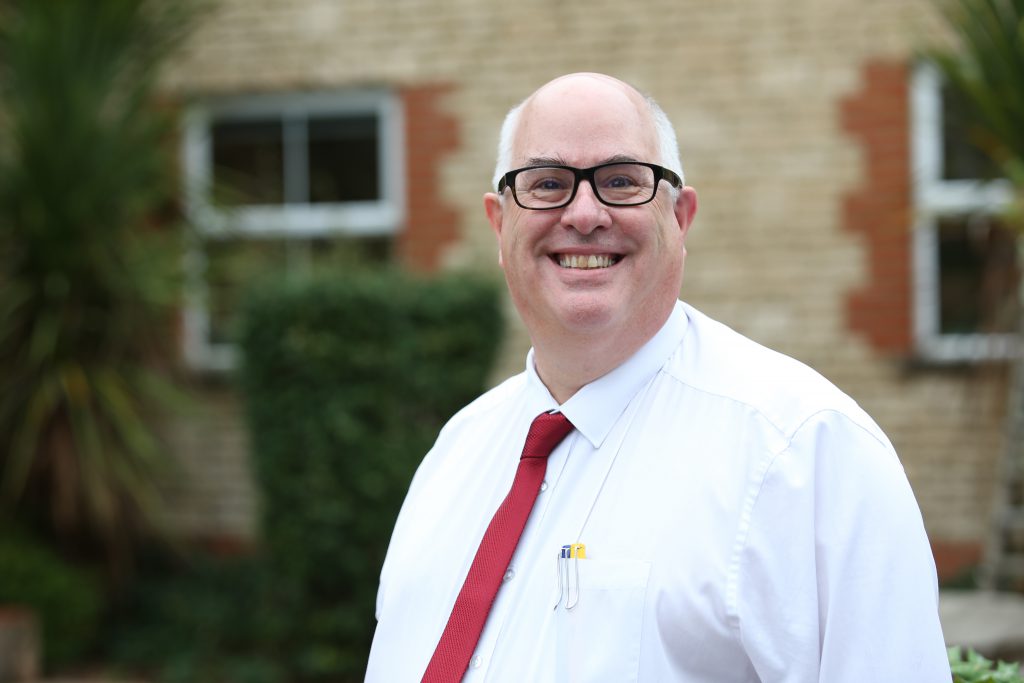 The spotlight shines on our 'resident DJ and quiz-master', English teacher Jeremy Robertson.
Born in north west London, Jeremy had an interesting upbringing as both his parents were wheelchair users having developed polio in their youth. However, they always ensured he had as much of an exciting childhood as his friends, taking him to the theatre (often the National) and to musical events (particularly Gilbert & Sullivan) as well as museums (he can remember going to the great Tutankhamun exhibition in 1972). He is married to Becky and has two boys, Tom and Andrew. Like his parents, he is a keen quizzer but his first loves are music (the noisier the better) and Darlington FC. Jeremy has been teaching since 1985.
How long have you worked at Warminster?
This is my fifth year. In the words of a fast food chain – I'm lovin' it!
What's the best thing about your role?
The pupils – I know it's a bit of a cliché but throughout my 33(!) years of teaching, the thing I've always enjoyed is the interaction with pupils, especially when the penny drops and they understand something complex.
Describe a typical day?
The alarm goes off at 6.28, I get up, shower, have breakfast and leave the house at 7.40. After that, nothing is ever typical!
What do you think makes Warminster a special place to live and learn?
I love the grounds – our maintenance staff do a tremendous job. However, it's the staff and pupils who make the school for me so I have to say that's what makes Warminster such a special place. Perhaps I could just add the particularly fabulous English Department!
You embrace Warminster's co-curricular philosophy and 'get stuck in'. DJ-ing at the Prep Halloween Disco (we saw a fetching photo of you on Twitter this week…) or as WSPA Quiz-master. You obviously enjoy it?
I've always enjoyed the wider life of education. School doesn't stop at the classroom door nor is it only for the pupils. I've enjoyed being part of the WSPA Committee. The Christmas Party has been tremendous for the last few years and the Halloween Disco is always fun – I'm constantly amazed by the costumes. As for the WSPA Quiz Night, my wife is always telling me off for making the questions too hard! There's also the International Students' Quiz, the Junior Sports Awards Disco, theatre trips….
What would surprise us about you?
I would say the fact I won The Weakest Link a while back but everyone seems to know that! Perhaps it's surprising that I've been to so many gigs (574 at last count including 11 Glastonbury Festivals) or that I met Prince Charles and Lady Diana Spencer the week before their wedding at an event. I tried to suggest I would be a better groom but I think it was a bit late by then!
What other Warminster role would you like to try for a day and why?
I'd like to have a rummage through the archive, as Mrs Aldridge is lucky enough to be doing in her role as Deputy Head of Development and Alumni for the current School history project. There are so many interesting stories from the past to dig up.
As a child what did you want to be when you grew up?
I always wanted to be a Blue Peter presenter.
What did your school reports say about you?
That I talk too much…plus ca change!
Your note/advice to teenage self?
Don't talk so much and study RE 'A' Level instead of Economics.
Your mantra/motto or favourite quote?
The title track of the great singer-songwriter Frank Turner's new album affirms "In a world that has decided that it's going to lose its mind, be more kind, my friends, try to be more kind." I think we all need a bit of that kindness.
Hidden ambitions still to achieve?
There's a book that I've partly written and really must finish.
A favourite possession you would save from a fire?
When I left a previous school, the pupils created a fantastic book of photos depicting the 21 years I had taught there, so it would probably be that. At the same time, I couldn't leave behind family photos and, of course, my cat, Stanley. I would doubtless make a grab for my tins of old concert tickets – so many memories!
Biggest bugbear?
People who make a virtue of ignorance. I hate it when people on quiz shows say "Oh I don't know that, it was before I was born". The Industrial Revolution was before I was born but I know about it as I read books! I spent quite a bit of my summer holiday shouting at people on quiz shows for not knowing basic facts!
Favourite musician/group?
Far too many! R.E.M., Neil Young, Frank Turner, The War on Drugs, The Coral, The Decemberists. I could go on and on!
Guilty pleasure?
Shopping! I always love buying my wife's Christmas and birthday presents.
MasterChef signature dish?
Belgian beef casserole. We go to Bruges almost every Christmas and there is a great restaurant there called De Vlaamsche Pot which serves the best beef casserole. I'd love mine to be as good as theirs.
Favourite TV programme?
Any quiz show but particularly Only Connect. I have a lifelong love of Doctor Who as well. I can still quote chunks of Reggie Perrin, Monty Python and Blackadder.
Last book you read?
I'm currently reading Neil Gaiman's 'American Gods' but haven't got as far as I'd like.
Last movie watched?
I think it was 'The Shape of Water' which I loved but I'm also a sucker for old films so, if I turn on the TV and find they are showing a Hitchcock film, I'll happily stick with that.
Which actor would play you in a movie about your life?
In my mind, it is Leo De Caprio. In reality, it's Jack Black!
Favourite tipple?
French red wine – preferably on a terrace in Languedoc or Provence.
Favorite place/city in the world and why?
I think it has to be France. We've had so many great holidays there. I can always recommend the Puy du Fou historical theme park in the Vendee or a wander round the Cathar castles such as Montségur or Roquefixade in Languedoc.
Twitter or Facebook?
Both, but these days it is primarily Twitter.
Please follow: Jeremy Robertson and Warminster English