SPOTLIGHT – CAROLYN EELES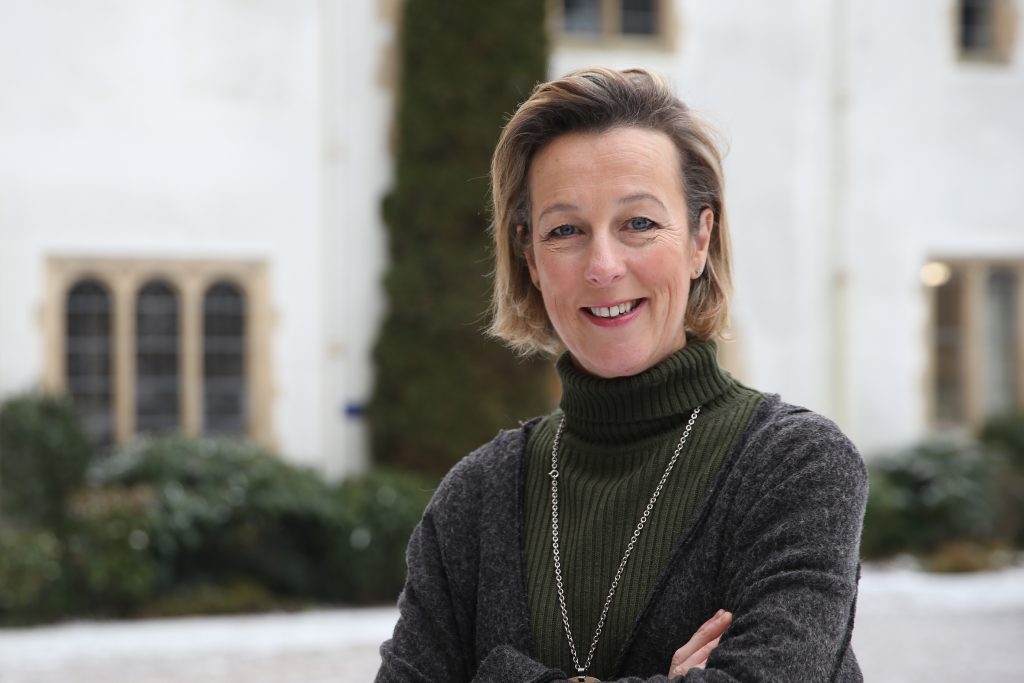 The final 'Spotlight' of the term shines on our super creative part-time Receptionist, Carolyn Eeles.
Until recently Carolyn ran an interior design business overseeing projects in London, Ireland and the Isle of Wight. She was also lucky enough to work for BFBS, designing and presenting on their television show 'Hung, Drawn & Quartered' which took her as far afield as The Falkland Islands, Canada, Bosnia and Kosovo. Carolyn wrote regularly for national home magazines and also spent 6 months in Brighton filming for UKTV Style. After 4 years in Scotland, she has returned to Warminster and turned her back on fabrics and paint samples, completed her OU degree and made a career change. As well as working for Warminster School, she is a counsellor for Cruse, the bereavement charity. She has also found the time to set up a new venture, 'Retreat Within', running yoga, Pilates and creative writing retreats in Northern France. To answer her 'back to nature cravings', Carolyn has just bought a few acres of woodland which her family are getting to grips with and she highly recommends tree hugging!
How long have you worked at Warminster?
Just 3 months but having had three children go through the school over the last 14 years it feels like a lot longer.
What's the best thing about your role?
Hearing a smiley Year 7 tell me at 5pm that they have had a great day.
Describe a typical day?
That's the great thing about working in reception – no two days are the same. It might be welcoming prospective pupils, parents and visitors, taking deliveries, sorting the post and answering the phone. And at the end of the day scooping up any pupils who miss their transport home and depositing them in a boarding house for safe keeping!
What do you think makes Warminster a special place to live and learn?
The genuinely caring atmosphere – in my experience people always go out of their way to deliver the very highest standard of pastoral care, and its not just the staff, but also the pupils. The team ethos at Warminster is second to none.
What would surprise us about you?
I have embarrassing 'out-takes' from my days with BFBS that have appeared on ITV's Auntie's Bloomers.
What other Warminster role would you like to try for a day and why?
Working in the Art Department would be my idea of heaven – I would love to see how the pupils approach their art work and projects.
As a child what did you want to be when you grew up?
An actress.
What did your school reports say about you?
I am too ashamed to say. I've never shown them to my children.
Your note/advice to teenage self?
Go to University now! Studying for a BSc in my 40s was enormously rewarding, but it was hugely challenging. My children were invaluable with study tips and advice – I wouldn't have managed it without mind maps, flash cards and highlighter pens!
Your mantra/motto or favourite quote?
"Tell me what is it you are going to do with your one, wild and precious life?" Mary Oliver.
Hidden ambitions still to achieve?
Take a gap year. Attempt the Three 3 Peaks challenge. Study for an MSc.
A favourite possession you would save from a fire?
Our family funny quotes book – 25 years of hilarious memories. Initially it was mostly things our children said but sadly I seem to be appearing in it more and more often . . .
Biggest bugbear?
The horrendous amount of packaging used in supermarkets, and knowing that even my carefully sorted recycling is probably going to end up in a municipal dump somewhere on the other side of the world.
Favourite musician/group?
Beyonce because listening to her reminds me of my daughters singing along (loudly) on long car journeys.
Guilty pleasure?
Lindt chocolate balls.
MasterChef signature dish?
Beetroot and carrot humous with coriander and cumin rice pilau.
Favourite TV programme?
House of Cards.
Last book you read?
"Why we Sleep" by Matthew Walker.
Last movie watched?
3 Billboards outside Ebbing Missouri.
Which actor would play you in a movie about your life?
Joanna Lumley.
Favourite tipple?
Champagne.
Favorite place/city in the world and why?
Deogarh, India. An unspoilt, under-visited corner of India.
Twitter or Facebook?
Neither – life is too short.