SPOTLIGHT – AL MOXHAM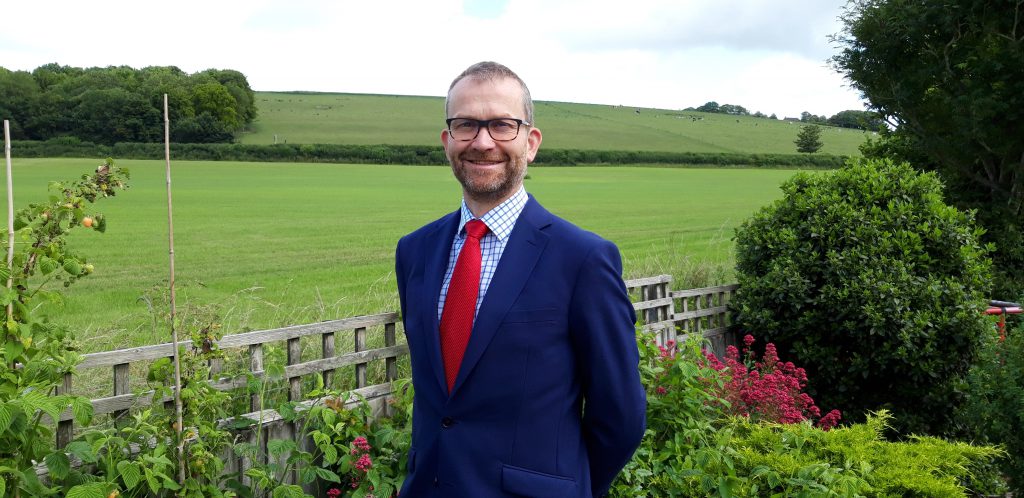 The last Spotlight of term shines on Al Moxham, our cool, calm and collected Head of Physics & Head of Academic Systems
Al grew up and went to school in London, then in Sussex. After university, he spent some time working in a London bank, but didn't enjoy the culture or the drudgery of the routine. One lunchtime, having glimpsed the future and found it unappealing, he walked into the Army recruiting office in the Strand with the hope of three years of slightly greater excitement. Seventeen years later, with a young family and thinning hair, he decided to leave the Army and take the leap into teaching. After a period learning his trade elsewhere, he joined Warminster School as Head of Physics.
How long have you worked at Warminster?
I joined the school in September 2014.
Describe a typical Warminster day?
Fairly manic. I tend to arrive early – I get in the way at home! – and sort out the last details for that day's lessons and any emails that have come in overnight. Then it's a blur of lessons and activity, before going home and getting everything ready for the next day. Good job I love it!
You are our resident Firefly and academic systems expert. Can you tell us how this has assisted with our remote learning?
Expert is a strong term to use; I prefer enthusiastic amateur. The success of our remote learning has been based on a mixture of factors, including the technology we have had at our disposal – and the combination of Firefly and 8×8 video conferencing has been really powerful, allowing teachers to set work, interact with pupils and give feedback – but even more importantly, our people. This includes our IT team who have worked tirelessly, but also every teacher and pupil who has bought in to the whole process; they have done brilliantly. However, remote learning is certainly no replacement for the real thing, and I can't wait to be back in the classroom.
What do you think makes Warminster a special place to live and learn?
Every role I have had, wherever it has been in the world, has always been made special by the people I have worked with and I am very lucky to work among some fantastic people at Warminster. I also love the grounded nature of the School: I had no previous experience of the independent sector before teaching, but at Warminster neither pupils nor staff lose sight of how lucky we are to be in a school like this.
What would surprise us about you?
People are often surprised that I was in the Army; perhaps I don't fit the caricature they expect!
What other Warminster role would you like to try for a day and why?
I absolutely love physics and think it is so important for our future, so I would probably not enjoy spending a day away! However, if I had to choose something else then probably history, if Mrs Walker would allow it: the ability to examine evidence rationally and empathise with the motivation of those who came before us are crucial skills to have in these angry and partisan times.
As a child what did you want to be when you grew up?
Older. I had no real idea what I wanted to be and tended to just push on to the next challenge, but was enthused by the possibilities offered by the future.
What did your school reports say about you?
I was lucky and found academic work straightforward. However, I was always described as being too laid back; I suspect I have changed a little as I have aged.
Your note/advice to teenage self?
Keep doing your best, and don't worry; and know that everyone else has the same insecurities as you.
Your mantra/motto or favourite quote?
Never, never, never give up.
Hidden ambitions still to achieve?
So much Universe and so little time; life is awesome, and there is an ever-increasing list of things I would love to do. Celebrating the next millennium would be good!
A much loved possession you would save from a fire?
Nothing apart from people; everything else is just stuff.
Biggest bugbear?
Bad manners and lack of consideration for others.
Favourite musician/group?
Lots. Muse has to be right up there; although depending on my mood, Led Zeppelin, Aretha, Paul Weller, Pulp, David Bowie, Foo Fighters… I apologise in advance to my new tutor group. Given time, you will love them too.
Guilty pleasure?
Rollmops, much to my wife's disgust.
What would be your MasterChef signature dish?
Curry – eaten at your own risk.
Favourite TV programme?
Ironically enough, The IT Crowd has to be a contender. I really enjoy Taskmaster and Only Connect, too.
Last book you read?
I been reading all of the Montalbano books during lockdown, interleaved with some P.G.Wodehouse to lighten the mood.
Last movie watched?
Inception (again). I've yet to find a Nolan/Zimmer collaboration that I don't love.
Which actor would play you in a movie about your life?
Hugh Dennis. In the past, I have been accused of resembling him, although that's a bit harsh on the poor bloke.
Favourite tipple?
Lagavulin, real ale and Merlot, although usually in separate glasses.
Favorite place/city in the world and why?
Early in my Army career I had a chance to emigrate to Canada, a place that I love; but in the end, not as much as the UK. For all its faults, entrenched pessimism and difficulties that we are bombarded with every day, the UK remains an amazing place full of tolerant, good-humoured people. A pint or two on a summer's evening, watching village cricket in the English countryside, is the pinnacle of civilisation.
Twitter or Facebook?
Twitter, although after the bile, hysteria and unpleasantness that platform has witnessed over the past few months, I've limited my exposure to it.