OLD VERLUCIAN INSPIRATION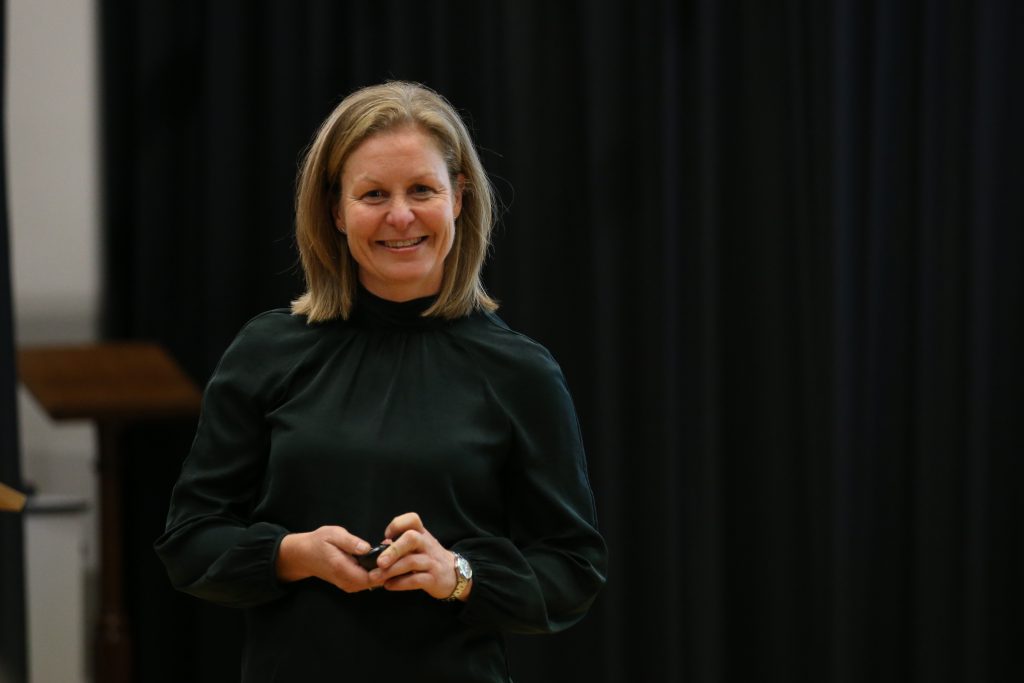 Old Verlucian 'English Rose' inspires the School.
We have enjoyed many excellent Thomas Arnold lectures in recent years but Sara Symington's (OV88) presentation to the School was one of the finest.
Addressing our Sports Scholars and school community, Sara who is currently Performance Director of England Netball and Vice Chair of the UK Performance Director Strategic Group (PDSG) and a NED on the British Boxing Board, spoke of her career to date and reflected in particular on the English Roses recent triumph over Australia to win the Commonwealth gold medal.
The theme of "Why not you?" was a distinct feature of her presentation echoing the motivational concept that Headmaster, Mark Mortimer, has successfully used at school. Although Captain of Netball in the Sixth Form, Sara admitted, much to the audiences enjoyment, that she was much more of a hockey player whilst at Warminster. She then proceeded to tell the School of her varied career as a twice Olympic competitor for GBR in cycling and triathlon and her route into professional sport after working for the police and even in the City! Her aim was clear; to highlight to the School community the importance of ambition and a willingness to adapt to circumstances as and when they arise.
Sara's role at England Netball has very much seen her use these qualities to the full. Her story of the road to victory in Brisbane was fascinating as the team put into practise the successful model that she applied to improving their performance. Everything from diet, psychology team unity and individual player ambition was included in her brief and the thrilling one point victory was the team's ultimate reward. Moreover, off the court, Sara fought for increased finance to ensure the team received proper pay to enable them to give up their jobs, extend their time at university and focus on their fitness. This approach proved to be transformational.
Far too modest to claim personal credit for this herself, it was nevertheless clear to the audience how much she had developed the team in three short years. As an Old Verlucian, Sara has left a lasting impression of the benefits of self-belief and ambition with our community. A powerful message and one that we hope the next generation of Warminster pupils will follow, whatever path they choose to take.
#Whynotyou?
Graeme McQueen, Head of Development & Alumni and Stella Aldridge, Deputy Head of Development & Alumni