MUGGLES, WITCHES AND WIZARDS A PLENTY!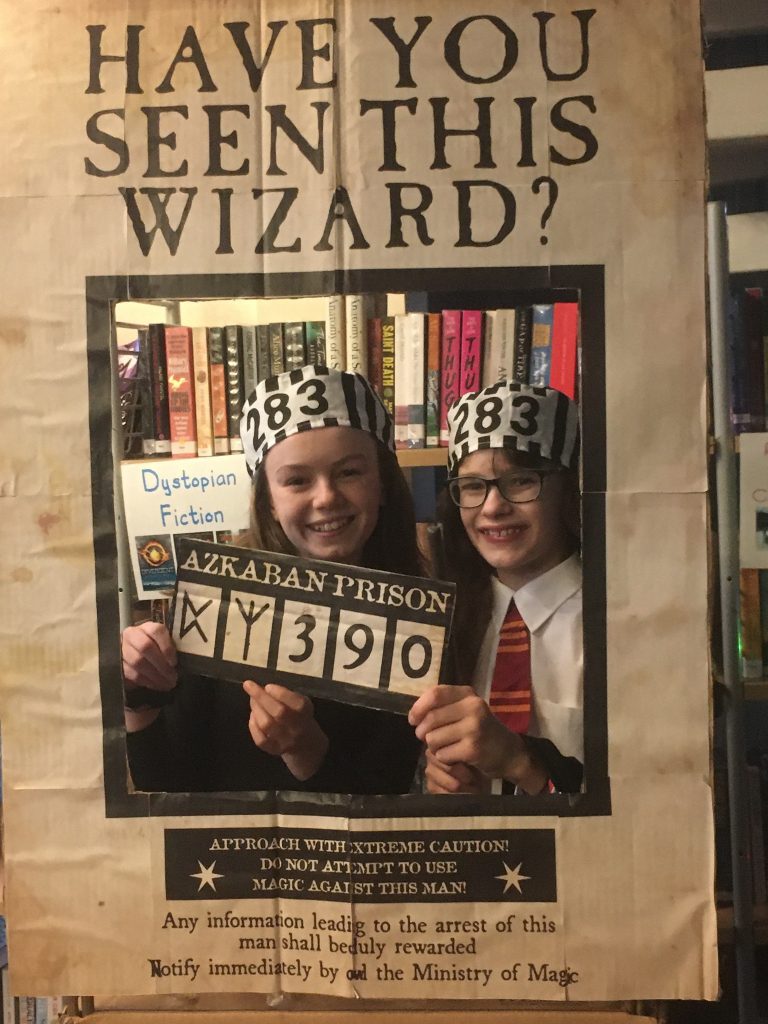 Whilst early February can be a dreary part of the year, it is an ideal time to stay inside and invoke the night time spirits with spooky tales. Many libraries over the world now celebrate Harry Potter Night on a Thursday close to the beginning of February, and so it was that we gathered in the Senior School Library on the 6th February to celebrate our favourite parts of JK Rowling's chronicles about that hapless young wizard.
The event was predominantly a Lower School one, but in addition to Years seven and eight, we attracted Prep School boarders, some Year nines and also some French exchange visitors who were trying out boarding at Warminster School.
As dusk fell at the end of the school day, foaming butter beer on arrival and Harry Potter theme tunes in the background easily got us all into the Hogwarts mindset. There were some great costumes to be seen, including a golden snitch and several Hermiones!! Whilst waiting for the group activities to begin, our guests were able to test their Hogwarts house affiliation by putting on the talking Sorting Hat, or if their courage failed them (it was pretty weird as it had an animatronic mouth!), sorting could be achieved using a sorting hat game. There were also selfie opportunities in the form of a Prisoner of Azkaban photo frame and a Platform 9 ¾ complete with trolley, luggage and Hedwig the owl.
As the clock struck Potter o'clock, a dark, gowned figure stepped up to the lectern to perform a candlelit reading from The Philosopher's Stone. Matt Williams, our headmaster, kept the entire room entranced with a compelling reading that described Harry's sorting by the Sorting Hat, the appearance of the Hogwarts ghosts at the welcoming feast and the first Headmaster's speech of the year by Albus Dumbledore. Let alone a pin dropping, I think that a tonne of bricks could have been dropped and we would all have been oblivious.
After that treat, those who were minded to went upstairs to the magically transformed banqueting hall, resplendent with "floating" candles. Here they took part in a fiendishly difficult Harry Potter quiz, led by our own Mr Robertson, a seasoned veteran in the quiz field. There was much brain racking and anguished grasping at those just out of reach factoids, but a winner was revealed in Charlie Loudoun (Y8), who went happily home with a marauders' map.
Only too soon our time was up and it was time to wend our separate ways to supper or home. Leaving with some Bertie Bott's Many Flavoured Beans – A Risk With Every Mouthful, those famous words of Albus Dumbledore rang in our ears, "Alas! Earwax!"
Claire & Sarah, Library Department