Love blossoms at the Prep School!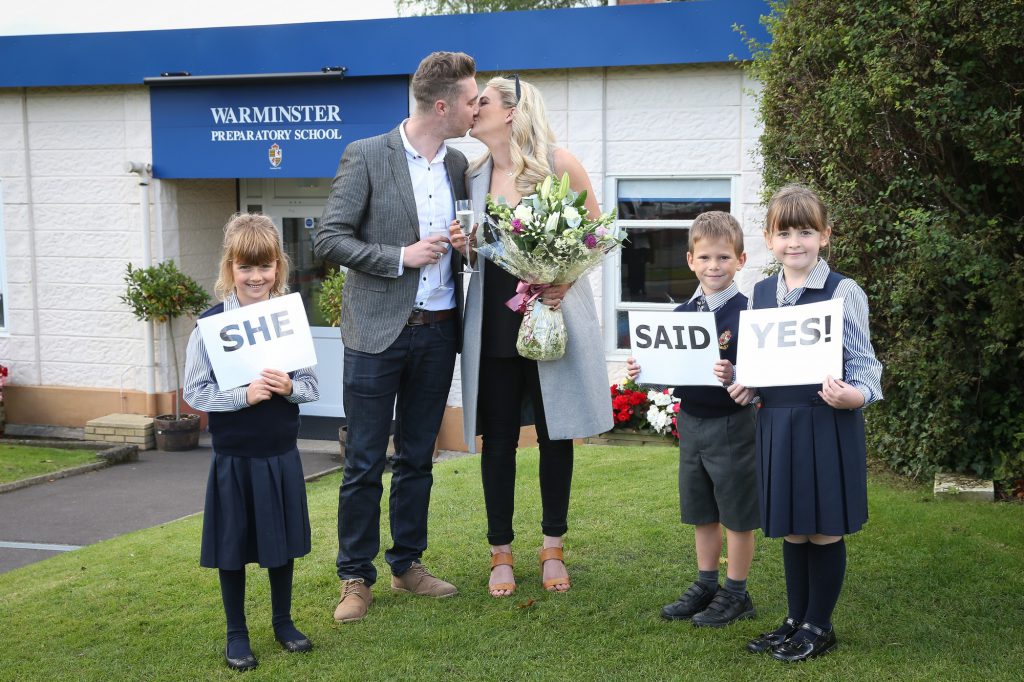 Old Verlucian, James Mansfield escorted his unsuspecting partner Charlotte Pearce to the Prep School earlier today, with the promise of an Open Day and Fete. However, Warminster Prep's Open Day doesn't take place until next month and James had other plans in mind. Romantic James wanted to propose to Charlotte on the very spot where they first met almost twenty years ago and so he asked the School to assist with his secret mission to create the perfect proposal. Headmaster, David Edwards was delighted to help James with his engagement plan and 'Operation Wedding Bells' was swiftly put into action.
James proposed to a surprised Charlotte with a beautiful diamond engagement ring and the couple were cheered by staff and pupils.
David Edwards congratulated the happy couple and James on his heartwarming proposal. "One of the fantastic things about life at Warminster is that we have great links with former pupils. I am delighted to see James and Charlotte and we have many staff that remember them fondly. We wish them the very best as they start this new exciting chapter."
A tearful Charlotte summed it up "We both have such fond memories of our time at the Prep School and I couldn't think of a better way for James to propose! I can't thank Warminster Prep enough. You gave us a day we will never forget, the kindness of the school and staff has not changed since we were there 19 years ago. Thank you for making it so magical. We were made to feel just as much a part of the Warminster school family as when we were pupils. I cannot thank you enough. From a very happy couple and former pupils."
Many congratulations James and Charlotte from all at Warminster School!