FROM MOROCCO TO UGANDA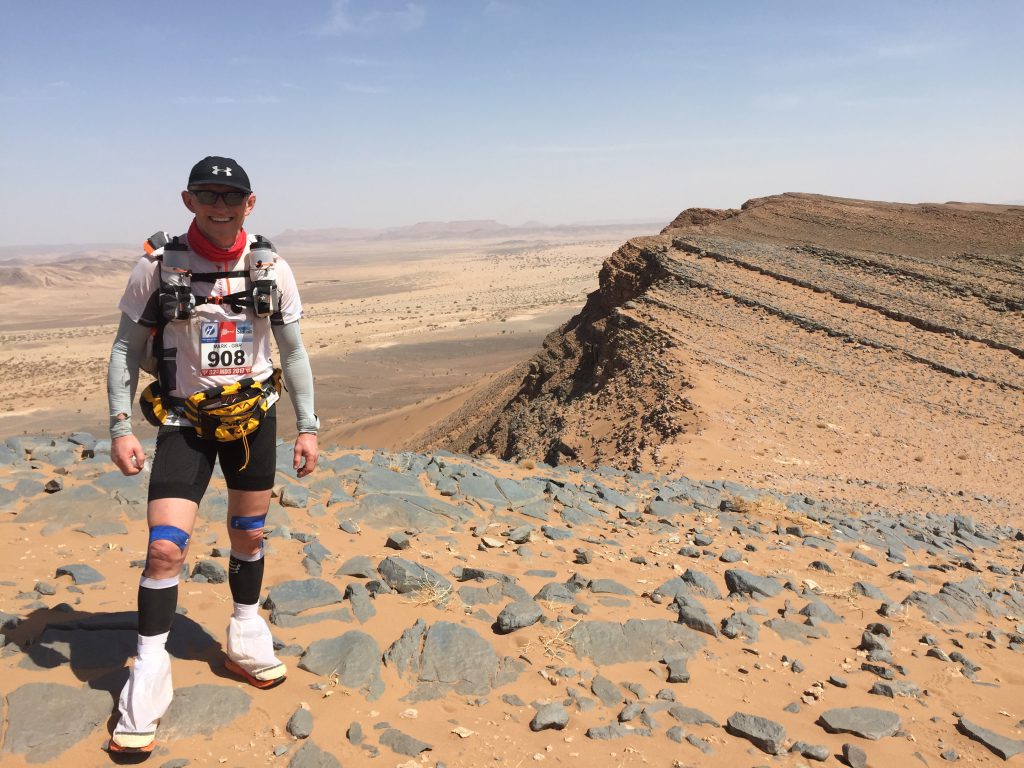 This article, written by the Headmaster, originally appeared in the October issue of Wiltshire Life Magazine.
In April, I ran the 32nd edition of the legendary Marathon des Sables, the so-called 'world's toughest footrace'. 250km, or six marathons, across the Moroccan Sahara in seven days, sleeping rough, carrying all your own kit (including food), looking after your feet, dealing with temperatures as high as 55 degrees and avoiding snakes, spiders and scorpions along the way. It was brilliant!
There were four things that made the experience so great – the terrain, the racing, the organisation and, most importantly, the camaraderie. The Sahara is an incredible place, beautiful and hostile in equal measure, comprising soft and shifting sand dunes, rocky, hard and flat terrain and some pretty big mountains (jebels). Roasting during the day, cold at night; for me, the most beautiful times of the day were sunrise and sunset.
The race itself is epic: each morning, there was a mass start (1200 runners), with helicopters and camera crews, as well as, famously, AC/DC's song 'Highway to Hell' blasting out at full volume. The six stages varied in length and difficulty, the shortest being 30km on day one and the longest, the infamous 'long day', of 86km. The route was marked, we carried a map and compass, as well as a tracking beacon, and there were checkpoints along the way. A specified ration of water was issued at each checkpoint and it was up to each of us how we used that water. How much to drink and when, how much to carry? The most dangerous thing of all was running out, given the extreme heat. The race was against each other but also the clock, and there were cut-off times – those who missed them were disqualified.
I ran with a friend, Julian Thomas, and we took part to raise money for a charity that supports St Michael's, a girls' primary school in a poor, rural part of eastern Uganda, close to the town of Jinja, the source of the Nile. In June, I was able to spend three days at the school and as well as having a lot of fun, I also learned an important lesson, one that I shared with the pupils at Warminster School when I got back.
There are about 650 girls at St Michael's, aged from 3 to 15. Many of them are orphans, most of them are boarders and all of them are poor. Some of the day pupils leave home before dawn to walk up to 90 minutes to school; lessons start at 6 a.m. and end (for the older ones) at 10 p.m. (there was a collective gasp when I told my pupils this in Assembly). There are breaks in the day for chores, food and prayers. Food is sparse and meals are monotonous. Many of the girls own no clothes other than their uniform, possess no shoes and not all the boarders have a mattress, or even their own bed, come to that. I saw no toys; neither did I see mobile phones or tablets.
The reaction of many of us in the West would be a feeling of sympathy and of the need to send these girls 'stuff' – to furnish them with possessions. And yet…. as far as I could tell, the girls at St Michael's are happy. There was no evidence of bullying, of self-harm or of the 'mental-health crisis' increasingly highlighted in British schools. In their spare time, they talk to each other, run around, make up games and sing or dance. The girls are optimistic, enthusiastic and full of positivity; they also have a passionate belief in the transformative power of education. It was inspiring.
At Warminster's recent Speech Day, the Chaplain's sermon included some pertinent words:
'Advertisers bombard us with images and stories that try to tell us that it is what we own that defines who we are: what phone we have, what car we drive, what clothes we wear. The better the stuff, the better the person.
"Go compare!" sings the tenor in the taxi. Good advice if you're looking for insurance cover, or a utilities provider, but the worst advice possible when it comes to finding happiness in life.
As Theodore Roosevelt once said, 'Comparison is the thief of joy.'
It's not what we have that defines us, but how we use what we have.'
He's right, and he's not the only one. I'm currently reading 'Stuffocation' by James Wallman. I recommend it. Wallman's view is that many of us in the First World are suffering from an acute affliction whereby we are stifled, rather than enriched, by the things we own – we are 'overwhelmed and suffocating from stuff'. Possessions do not bring happiness; rather, Wallman believes, experiences will become increasingly important to a happy and meaningful life in the 21st century.
The Marathon des Sables was a wonderful experience. The oldest competitor in this year's race was 75, the youngest 16. If they can do it, why not you? Just saying…