Dragon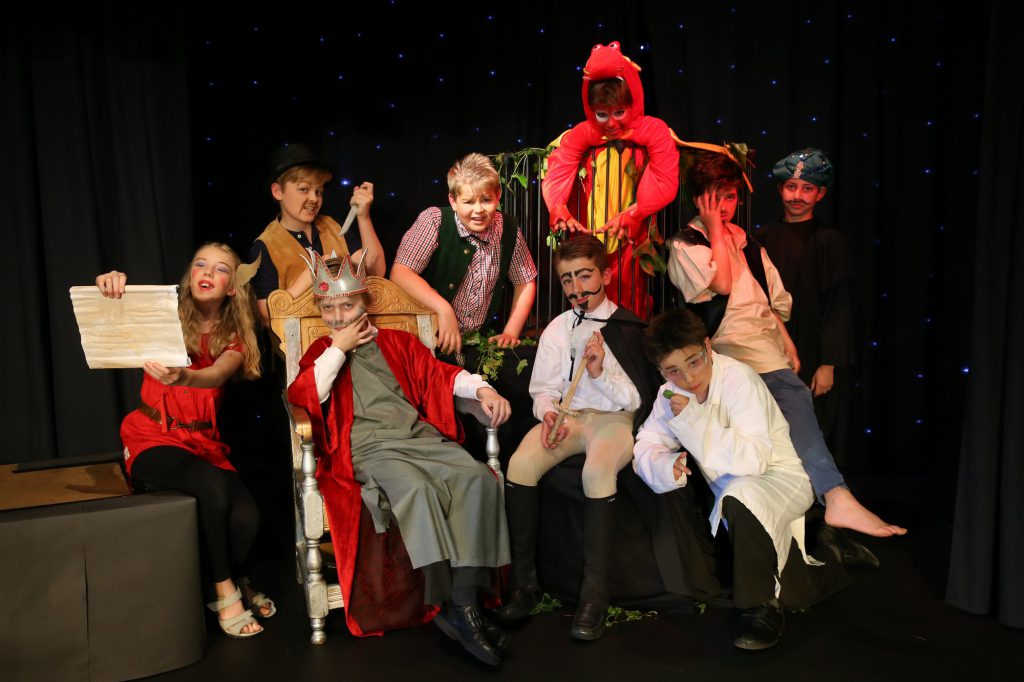 Last week pupils in Years 5 and 6 performed their production of Dragon. This was a singing, acting and dancing show set in the kingdom of Frenia where the last dragon was killed by the eager knight Arkamir, cleverly played by Oliver Wood. As soon as the dragon was killed the kingdom was plunged into disaster as the ecosystem had been destroyed once the top predator was no more. This was explained to the audience by a quick-talking scientist fantastically played by Harry Cole who clearly enjoyed his role and made the audience hoot with laughter throughout.
However, Arkamir was not willing to help the kingdom as he plotted to take over from the king, so it was up to the very straight-talking Princess Poppy, who set off with her backpack to find a dragon to save the kingdom. The princess, played by Lily Aldridge, was joined on her quest by dragon expert Edward George who looked like the Bear Grylls of the dragon world.
The nasty knight could not let the princess go without hatching a plan to capture her. He turned to his two servants William Robinson and James Shipp who were very convincing in their cowardly, bumbling and comedic roles. It was up to them to capture poor Princess Poppy and her evergrowing support team.
Needless to say, more laughter ensued as the princess was joined in her quest by a gatekeeper played by India Morgan-Nash and a wizard's apprentice played by Nandini Sharma. By the time the dragon appeared we had laughed so hard and were so caught up with the great comedic acting of the children, especially the group of unhelpful villagers played by Henry Butler, Imogen Brumby, Johanna Dopheide and Charlie Kennett, who gave fictitious directions to Poppy, that we had almost forgotten what the quest was about! However, all was well and the dragon was found with a very bossy queen and her gaoler who was nearly booed off stage.
The dragon proceeded to eat the horrible swamp beasts played by Year 5, the knight was locked away and all was well in the kingdom. A similar sense of happiness was evident on the faces on all of the pupils. This was a great fantasy production. Well done to everyone involved.
Sian Williams & Stephanie Sheppard
Warminster Prep School