COOKING UP A STORM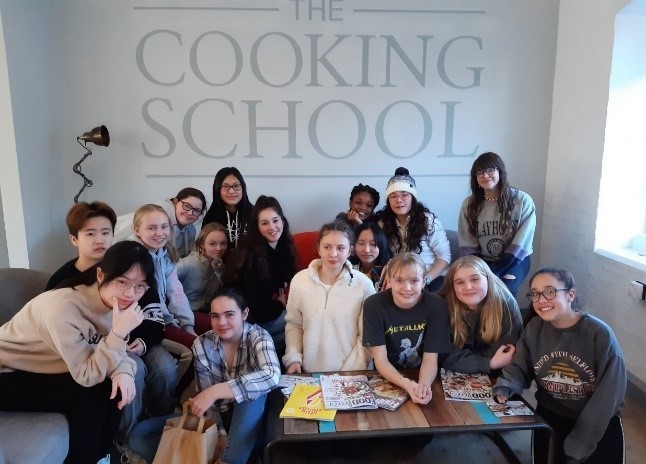 Our Ivy boarders turn up the heat in the kitchen during one of the best weekend trips ever!
Based in the Old Silk Works a mere 10 minute walk from the School, The Cooking School offers a fantastic opportunity to learn valuable culinary skills in a relaxed, fun environment. Our happy chefs made the short walk in bright winter sunshine and were warmly greeted by the team, including Aaron our chef and teacher for the session. Immediately it was aprons on, sleeves rolled up and straight into the first demonstration.
We learned how to put together a delicious tomato pasta sauce, prepare julienne vegetables and a really handy trick to puree garlic! Our pupils then divided up across the spacious cooking stations to put their own sauces together. Once they were gently simmering we were then shown how to make fresh pasta, butternut squash with goat's cheese filling and the skill of filling and shaping tortellini. The girls embraced the challenge and did a wonderful job, working together to make some truly delicious food. Mrs Crinion, Miss Hawkins and I especially enjoyed the atmosphere, laughter and of course sampling the fare.
Finally, as the pasta was resting we were shown how to make scones. While these were baking, we all sat down in the dining area and ate the pasta and sauce. It was absolutely delicious – a real treat and the girls had great fun comparing notes and devouring everything – there was hardly a scrap remaining.
We then took the fresh scones back to Ivy and added clotted cream and jam for a perfect end to a lovely day.
I know that I will be insisting on Jess cooking all the recipes for me over half term and suggest that all the other Ivy parents do the same!
Mrs Saunders, Matron Ivy House