BROODING BRILLIANCE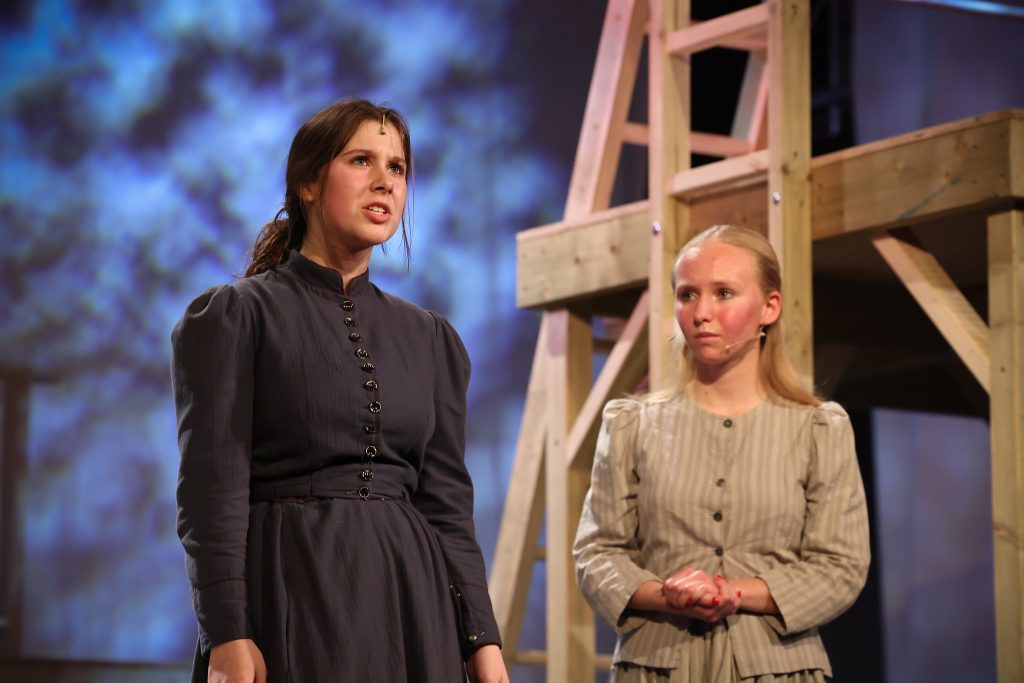 "Reader, I loved it!" – Jane Eyre at the Ath
Once again, the Warminster School Drama Department deliver the goods. In only six weeks they have put together a brooding but lively version of Charlotte Bronté's classic novel. Before the production even began, the set was a sight at which to marvel – ladders, towers, raised platform and walkways covered the stage, all created by Warminster's brilliant maintenance team.
The action was equally impressive. We saw young Jane, ably represented by newcomer Mya Lacey, suffering at hands of her cruel aunt, Mrs Reed, played with wicked relish by Isis Strange. The scene where she was confined to the Red Room as a punishment was a study in fear, enhanced by the superb lighting. It is only thanks to the kindly doctor (Emily Mooney) that she is able to escape and move to Lowood School. Unfortunately, this is under the control of domineering Mr Brocklehurst, played with cruel gusto by Henry Williams. Jane's life continues to be miserable, helped only by her friendship with Helen (Isis Strange) whose sad death from typhoid brought a tear to the eye.
When Jane grows up, she is then played by Georgina Johns, who absolutely commanded the stage. Her emotions shone through loud and clear. The atmosphere of Thornfield Hall was a combination of freedom for Jane but with an undercurrent of threat from the mysterious noises she hears. Jane becomes governess to Adele, a young French girl. Martha Gibbins almost stole the stage in her role as the fun-loving Adele. However, Adele's enthusiasm is balanced by the sinister Grace Poole, played with great threat by Jess Saunders. It soon becomes apparent that all is not as it should be. With the return of Mr Rochester (Barnaby Craven-Smith as the flawed hero), accompanied by his dog Pilot (played brilliantly by Sam Milner-Smith!), we start to get to grips with his past life, including his mad first wife, Bertha Mason who is chillingly created by Ruby Hartigan, cackling madly on the top of the tower.
With interrupted weddings, tragic fires and mysterious relatives, the play's conclusion is a whirlwind of action. In amongst all of this, Jane finds some solace with her cousins (Marta Rossano, Bronwen Rogers and Sam Milner-Smith again) before finally returning to her beloved Rochester. All of this action was accompanied by a great ensemble cast, many playing multiple roles and adding singing to add to the atmosphere.
Mrs Harris must be congratulated on putting together such a complex production in such a short time. All the cast deserve equal praise for tackling such a multi-layered story. Well done, all!
Mr J. Robertson
Flickr images  > here