"A Minor Setback" charity lecture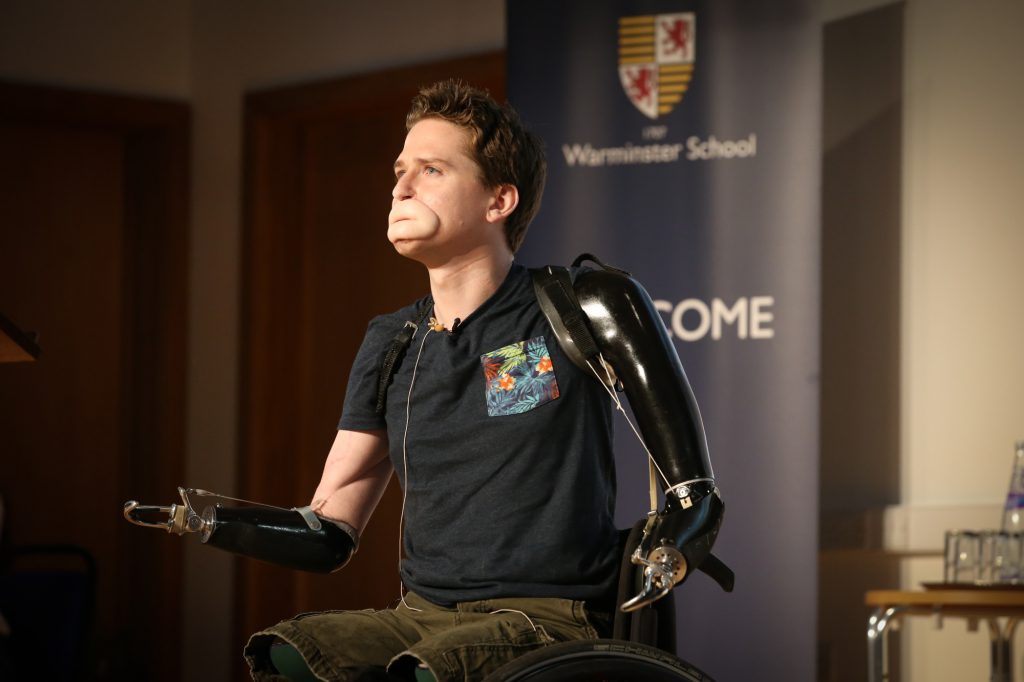 On Friday 8 May 2015, the Thomas Arnold Hall at Warminster School was the venue for an inspiring Charity Lecture Evening in aid of the Alex Lewis Trust. The packed auditorium included members of the public, staff and pupils from the School, along with other professionals associated with the Alex Lewis Trust.
This initiative was organised by Alex Beck (a former pupil of Warminster School and currently a second year student of Physiotherapy at UWE) with the aim of raising awareness and enhancing knowledge in this field of medicine. Leading up to the Lecture, Alex Beck and the school organised a series of fundraising events including quizzes, cake sales, craft workshops, raffle and a silent auction. The evening lecture was a focal point for these events, with Alex Lewis leading the event as the primary speaker. Introduced by members of the Sixth Form, Alex gave an inspiring and moving account of his experiences. Following on from his talk, professionals from the medical and allied professions gave a variety of presentations associated with the care of amputees and of Alex himself.
Dr Geoff Watson, a Consultant Anaesthetist specialising in Intensive Care, spoke emotively about Alex's early lifesaving treatment. Geoff is characterised by the high ambitions he has for the people he works with, mentoring a "Reach for the Stars" mentality. He has radically redesigned surgical services locally and has led the planned care programme that has seen widespread improvements in care and efficiency in the NHS across the south of England.
Samuel Wilson, a Masters graduate in Robotics (Reading), is currently working on a PhD in Biomechatronics at Imperial College London, and gave a presentation about the very latest developments in Biomechatronics. This featured a systems approach to allow users of robotic prosthetics access to a greater range of mobility. Samuel is hoping to link with the Alex Lewis Trust in the future with a view to more closely aligning the technological developments in this area of Robotics with the user.
Physiotherapists Michelle Bray, Hollie Carpenter, Lauren Joseph and Sarah George all spoke about their experiences. Michelle, who works on ITU in Salisbury hospital specialising in Respiratory Care, met and treated Alex in his early recovery. Hollie specialises in Burns and Plastics Therapy, whilst Lauren worked with Alex in the later stages of his rehab when he was learning to walk on his new prosthetics. Sarah, a community physiotherapist, has been integral in taking knowledge from the hospital into the home environment so that Alex continues to benefit from physiotherapy.
Paula Fletcher, a Pilates teacher who studied under Suzanne Scott and her fantastic team at Castle Cary, spoke about acquiring suppleness and strength through body mind awareness. Paula spoke of the joy of working with Alex "because he is such an amazing man, determined to maximise what his body can do". Helena Lewis-Smith (MSc Health Psychology) was the final speaker, giving an engaging talk on how to cope with facial disfigurement in a society often obsessed by body image.
Particularly inspiring was the Pilates demonstration where Alex demonstrated some of the movements which have been key in developing his core strength; this has been crucial to his on-going rehabilitation, maximising strength and flexibility.
During the evening, attendees were able to talk to the specialists about their work, they were also able to visit the Robotics display and try out the latest mechatronic hand, demonstrated by Samuel at the Science Museum at Easter.
A special thank you must go to our fantastic sponsors for the provision of delicious ploughmans and puddings. A particular treat were the home-made puddings made by Felicity Beck (thanks, in particular, to BV dairy who made this possible and also for sponsoring goodie bags). Thanks too to Alex Rall, Catering Manager at Warminster School, and his catering team and Lyons Seafood for their amazing support.
At the end of the evening, the speakers were presented with gift bags including specially printed event hoodies; student helpers received printed t-shirts. Thank you to Hewlett Packard and the RACs group for their generosity in sponsoring these items.
A special thank you to Alex Beck, organiser of the whole initiative, who is delighted to announce that in excess of £6000 has been raised to go towards research and development of prosthetics and treatment of amputees. Alex Lewis and Rosemary Court from the Trust commended Alex Beck on her drive and enthusiasm for having the energy to set up such an event whilst in the second year of a full-time University course. She received a standing ovation for her efforts – a great accolade for her and for Warminster School where she was a pupil for six years.
Not only was the event a wonderful boost for Trust funds but it raised awareness of the profound experiences of someone like Alex. It also enabled those interested in learning more – or following a career in this area of medicine, therapy and technology – to support amputees. Overall, this was an inspiring and educational evening delivered with passion and humour.
Warminster School now hope to work closely with the Alex Lewis Trust to continue raising funds and awareness of the work of the Trust. A final thank you must go to Alex Lewis himself, for attending the event, for speaking so eloquently and for inspiring so many others.
Please contact Felicity Beck, event co-ordinator, if you would like to sponsor any forthcoming fundraising in aid of the Alex Lewis Trust. [email protected]
The Trust's next event is the Bridge Music Festival, Stockbridge, Hampshire on Saturday 4 July. Tickets still available; just £25 for adults (under 14s free, camping available) for a fantastic family day out – please come if you can! www.bridgefestival.org.uk
…and once again many thanks to all the event sponsors and supporters:
Abbotsbury Tourism, Abel & Cole, Abi Chadwick, Allum & Sidaway, Anatomy Stuff, Ashton Farms, Batchelors Warminster, Back in Action, Bath Rugby, Beechfield House, Ben Winter, Berkley Castle, Bishopstrow Halcyon Spa, Blackmore Vale Magazine, Blooms Warminster, Boston Tea Party Salisbury, Bounce Foods, Bovington Tank Museum, Bowden, Bowood House, Bronte Woodruff, Burts Potato Chips, Butternut Baskests, BV dairy, Campbells Shortbread, Canterbury Ghost Tours, Center Parcs Longleat, Charles Saunders, Chedar Gorge Cheese Co, Christine Allison, Claudia Bradby, Clif Bar, Clifton Photography, Damien Crinion, David & Oliver Fods, David Doel, David Wiltshire Photography Warminster, Denbies, Diageo, Dunsfold Park Wings & Wheels, Eddington Farm Shop, Eggesford Studio, Elevate Dance Studio, EPC Ltd, Farleigh Road Farm Shop, Ferrero, Ffos Las Racecourse, Fontwell Park, Frances Dickens, Fussels Fine Foods, G! Boutique Hotel, Giffords Circus, Grandstand Media Ltd, Graze, Grocycle, Harry May, Hawk Conservancy, High 5 Nutrition, Hion, Hewlett Packard, HSBC Warminster, Imagine Studio, In-Excess, Intersport, Ivy House Farm Dairy, Jellycat, JoJo Maman Baby, Julie Fothergill, Katherine Lightfoot, Kilver Court, Lacock Abbey and Fox Talbot Museum, Larkhill Racecourse, Lauren St John, Lesley Waters, Lingfield Park Racecourse, Lulworth Castle, Lyons Seafood, Michell O'Brian, Mind the Gap Bike Tours, Monkey World, Morrisons Warminster, Oak Barn Photography, Party Delights, Plant Theatre, Popchips, Prince Leopold, Pukka Herbs, RACs Group, RAF Red Arrows, Raw Chocolate Company, Really Good, River Dart, Roland John, Rose Cunningham, Ruth Kirkby, Salisbury Punting, Scats Gillingham, Sheppy's Cider, Sipsmith, Snuggy Hoods, Sophie Dickinson, Stewards Garden Centre, Stourhead Estate, Tesco Shaftesbury, The Snooty Fox Pub Warminster, The Team at Nicky Clarke Mayfair, Tim Dews, Tracklement, Treasure Trails, Vaughans Kitchen, Wadswick, Waitrose Gillingham, Waldo Pancake, Warminster Journal, Warminster School, Warminster School Parents' Association, Webbs Motorhomes, Well Natural Salisbury, Westgate EFI, Weycroft Bridge B&B, Whitehall Garden Centre, Wilton House, Wincanton Racecourse, Wylye Valley Dentists, Wylye Valley Wine, 5 A Day Box Ltd.